General Information
Creating Second Floor Living Space in Your Historic Commercial Building
Enlarge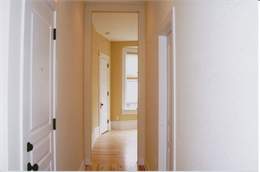 W.T. Lyle Building, 1890
Waukesha, Wisconsin. Upper floors of historic commercial buildings can be an appealing location for people looking to live in downtown environments. Source: WHS - State Historic Preservation Office. View the property record: AHI 28714
If you own a historic downtown commercial building, you might be using only the first floor for your business and leaving the upper floors vacant. This upper floor space can be renovated into residential units that provide you with additional income and contribute to your community's downtown revitalization.
The rehabilitation of upper floors into living space is growing in popularity across the state as more people desire to live and work downtown. This trend is expected to continue in the future. Your rehabilitation project to convert your upper floor into an income-producing use such as apartments could be eligible for state and federal tax credits.
A Return to Traditional Downtown Living
Historically, it was not uncommon for shopkeepers to live above their stores. This tradition fell out of favor as a result of widespread suburban development. Planning departments developed zoning regulations to control land use by location, and residential areas were separated from commercial areas. Today, it is not uncommon for small downtowns to have active commercial businesses with vacant second floors above them. But as housing needs have grown, planning and zoning departments have begun to allow upper-floor residences in downtown commercial buildings.
If you are interested in converting your upper floor to living space, you will have to check with your town's zoning regulations to find out how they apply to your building. If your building's location is not zoned for apartments, you can apply for a variance.
Building Code Considerations
Enlarge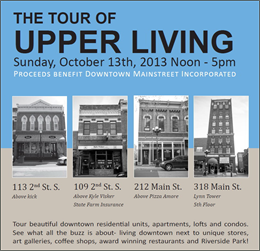 La Crosse, Wisconsin. Sponsoring a walking tour of upper floor residential units is a great way to advertise downtown living. La Crosse had such an event in the fall of 2013. Source: Photographer Mark Fay.
If the location of your building offers a variety of amenities and sufficient basic goods and services within walking distance, it could be a good candidate for upper-floor apartment conversion. You will need to bring your building into compliance with fire and building codes. Seek assistance from your local building inspector for help in interpreting code requirements. Here are some renovations you might need to address:
Exits. Historic buildings generally do not meet the current requirement for having two means of egress (i.e. two exits). If you don't already have a front and rear exit, you will probably need to install an additional means of exit. Your fire code might also require additional exits depending on your building's height. Consult an architect or your plan reviewer to help you with code compliance issues.
Sprinklers and firewalls. You may need to install sprinkler systems and firewalls between apartments and any restaurants below them. You will also need to check with your town's building codes about required fire separations between ground-floor and upper floor use types. A tavern or restaurant, for example, could be an occupancy type called a "place of assembly" or "assembly group." When this type of use is not the only occupancy in the building, a fire separation will be required between the tavern and the other occupancy types within that building, such as a residence or office next to or a residence above it. A required fire separation of two hours means that the floor or wall system must be constructed in accordance with a recognized national design standard, such as the Underwriters Laboratory (UL) standard, that has verified it would take two hours for a fire to burn through your floor or wall system.
Fire escapes. Your town's

design guidelines

might address the addition of fire escapes on a building's exterior. This type of added feature should be located on the rear of your building where it is out of public view. You could also install a staircase from the upper floor directly into the first floor interior. Your local fire code will specify appropriate fire-proof materials for such a staircase.
Parking. You will need to consider parking for your tenants. Your town's parking requirements might allow you to partner with another nearby business to share a parking lot. In this case, the other business's patrons would use the parking space during business hours, while your apartment tenants would use it after business hours.
Federal and state requirements. Three other common federal and state requirements include:
Lead-paint abatement
Asbestos mitigation
Management of widespread mold
Landlord Considerations
If you plan to develop your building's upper floor as rental apartment space, you should become familiar with the Residential Rental Practices chapter of the Wisconsin Administrative Code. This code addresses many issues for landlords, such as lease agreements, security deposits, repairs and prohibited practices. Your local municipal code may have additional landlord requirements.