General Information
Renovate Your Historic Building Using Preservation Best Practices
Before you undertake a renovation project on your historic house or building, you should understand the difference between historic preservation, or restoration and remodeling. Your preservation or restoration project should be designed in accordance with some very specific definitions under the Secretary of the Interior's Standards for Rehabilitation. These terms are defined in relation to the period of time when a house or building was historically significant. In contrast, remodeling is not based in historical appearance and has no particular reference to any point in the past. Therefore, a remodeling project could destroy the historic character of your house or building.
To maintain the original historic and architectural character of your property, you must make good choices before and during your renovation project. You can use the following best practices to guide your efforts toward genuine preservation.
Preservation Best Practice 1: Retain Your Original Architectural Style
Enlarge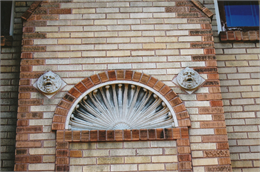 Milwaukee County. Decorative masonry elements such as the ones seen in this photo are character-defining and should be retained. Source: WHS - State Historic Preservation Office.
Your first goal during a renovation project is to retain the original architectural style of your historic house or building. The architectural style of any building can be categorized as either high style or vernacular. A high style building has all or most of the commonly identified traits of its particular architectural style. The building is noteworthy for its detailed features, masterful design and generally impressive architecture. A vernacular building, on the other hand, clearly conveys a sense of history without having highly embellished design. Often, vernacular buildings represent a common floor plan rather than an architectural style. Vernacular buildings are equally important as high style buildings because they illustrate popular trends in how people organized and used building space. Some buildings are a mix of styles because they were built during a period of architectural transition. Others include a mix of styles due to remodeling decisions.
The original design of your house or building may have been obscured by previous remodeling projects. If you are having trouble determining the style of your building, you should research your building to determine its original appearance.
Preservation Best Practice 2: Stay True to Your Original Design
When you make renovation design decisions, you should not try to change the appearance of your house or building into a style it never was in the first place. The aim of historic preservation is to retain the original form and character of a building, not to create an idealized version of a particular architectural style. Your house or building represents a style or form that was popular during its time of construction. Any attempts you make to create a historic appearance or force a different style through remodeling would be counter to the principles of preservation.
Try to find an old picture of your house or building and stay true to its original design. Do not introduce any new style feature that is not in the historical record for your structure. Keep in mind that although certain features define a style, most historic buildings are a hybrid of several architectural styles.
Preservation Best Practice 3: Follow Preservation Principles for Maintenance and Repair
Enlarge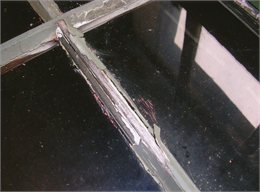 Waupaca County. Glazing compound on this window muntin is deteriorated and should be removed. Window repairs such as this can be completed by contractors, carpenters and painters. Source: WHS - State Historic Preservation Office.
Regular maintenance should always be a first step in preserving your historic house or building. By properly maintaining your historic property, you will help to prevent the deterioration of original features and decrease the need for repair and replacement. Typical maintenance tasks include the following:
Rust removal
Caulking
Re-application of paint
Cyclical cleaning of roof gutter systems
Even with regular maintenance, you will need to make many repair and replacement decisions about original features in your house or building. In many instances, it will be possible for you to repair a historic feature, and this approach is always preferable to replacement. Repairs are warranted when the physical condition of a character-defining feature or material fails or deteriorates. When you repair a historic feature, you should use the least degree of interference possible, such as patching, piecing-in, splicing, consolidating or otherwise reinforcing or upgrading the damaged material.
You may find that you want to expand your historic house or building for additional space. Before you design an addition to your structure, make sure that you cannot use existing space within the footprint of your building for expansion. You might have unused space in your attic or basement that could meet your needs rather than altering your property with an addition. Keeping as much of the original historic materials and design of your building is always preferred to replacement and expansion.
Preservation Best Practice 4: Replace with Matching Materials If Repair is Not Possible
Enlarge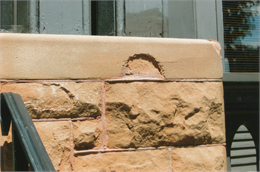 Columbia County. The face of soft stones can spall leaving the masonry unit vulnerable to water infiltration. Spalled stones may be repaired either using a specifically formulated mortar, reversing the stone or replacing it with a new stone to match the original. Source: WHS - State Historic Preservation Office.
Replacement is appropriate when an entire character-defining feature of your historic house or building cannot be repaired. If you must replace a feature, use long-lasting materials that closely match those of the original feature. The best replacement option is always to replace the entire feature with the same original material. This approach will not always be technically or economically feasible, so you may need to choose a compatible substitute or alternative material. With all of your replacement choices, your goal should be to avoid creating a false sense of historical appearance to your house or building.
Your best choice to replace a missing or deteriorated feature is an "in-kind" replacement, which means a material and design that matches the original as closely as possible. You may find sections of the feature intact that you can use to match the original. If the feature is completely missing, look for physical or historical evidence to help you replicate the original. The design of the replacement should be in keeping with the style and character of your building.