Guide or Instruction
Repairing Linoleum Flooring in Your Historic Building
Linoleum was a common original flooring material in historic houses throughout Wisconsin. In most cases, the original linoleum has been lost to time or damage. Often another flooring material was laid over the original linoleum.
If you are lucky enough to uncover an intact, authentic, inlaid linoleum floor in your historic house, you may be able to save it. However, be aware that a historic surface will never look new. But you can repair minor damage to your original linoleum that will show the patina of the aging process.
History of Linoleum Sheet Flooring
Enlarge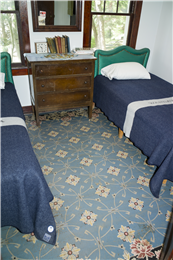 Wandawega Inn Hotel, 1928
Sugar Creek, Wisconsin. The original linoleum floors at this hotel have been maintained. Source: Photographer Mark Fay. View the property record: AHI 227835
Linoleum sheet flooring was invented and patented in England by Frederick Walton in 1855. He perfected the process and put it in full production by 1864 as the Linoleum Manufacturing Company Ltd. By 1869, he was exporting linoleum to the United States. In 1872, Walton opened a plant in New York. It was considered a major innovation for Wisconsin kitchens and bathrooms between the 1890s and the 1940s.
Linoleum was made in large sheets with linseed oil, resins and canvas. Linoleum was designed in two ways: an inlaid version made by laying different solid colors of linoleum pieces into a pattern, and a printed version with a pattern printed only on the linoleum surface. Many companies today make a product often called linoleum that is made with polyvinyl chloride (PVC). The flooring industry today calls this sheet vinyl or linoleum.
Assess the Condition of Your Linoleum
If you remove another flooring material that was laid over your original linoleum, it will leave behind glue, rips, and nail holes that you can repair. If your intact linoleum is the inlaid version rather than a printed design, your repairs will be much easier. However, if your original linoleum is the printed variety, the pattern may have worn off. Unfortunately, it is virtually impossible for a house or building owner to restore this missing surface.
Gather Your Tools and Supplies
To repair minor damage to original linoleum flooring, you will need to gather the following tools and supplies:
White vinegar
Liquid dishwashing detergent
Five-gallon bucket
Shellac repair sticks
Carnauba-based floor wax
Repair Your Damaged Historic Linoleum
Follow the three steps below to repair your original linoleum:
Clean the linoleum surface with 1/4 cup of white vinegar and several drops of a liquid dishwashing detergent mixed in a five-gallon bucket of hot water. Rinse the cleaned surface with clear water to remove all the dirt and reveal the appearance of the original linoleum surface.
Repair cracks, small tears and gouges in the surface by filling them with shellac. Most woodworking supply companies on the internet sell shellac sticks for repairing furniture finishes. These shellac sticks come in a variety of colors that can be mixed to match the affected areas of your linoleum. Follow the manufacturer's directions to install the shellac stick.
Wax the linoleum surface with a carnauba-based floor wax, which is similar to car wax. Carnauba is derived from a plant and produces a durable finish. Follow the wax manufacturer's application instructions closely.
The information presented here is not intended to provide comprehensive technical advice or instructions on solving historic preservation issues. Any information contained or referenced is meant to provide a basic understanding of historic preservation practices. Read full disclaimer.