Guide or Instruction
Weatherizing Your Historic House
Enlarge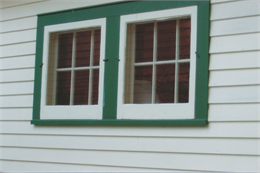 Dane County. Here you can see original wood storm windows with the turn-buckle hardware. Source: WHS - State Historic Preservation Office.
Weatherizing can help improve the energy efficiency of your historic house. The act of weatherizing is insulating and stopping excessive airflow by sealing areas where air is infiltrating your house. However, when it comes to sealing your house, you can over-do it. You must make certain that your house has adequate ventilation.
Weatherization Practices to Follow
Use the following practices to weatherize your historic house:
Ensure proper ventilation in your house. Make sure your house is getting an exchange of inside air with outside air to avoid a build-up of stale air. Stale air can cause illnesses like asthma and lung infections.
Maintain airflow in your attic. Make sure your attic has adequate airflow. Keep every

gable-end vent

and

soffit vent

open in your unheated attic spaces. If you blow insulation into your attic, be sure none of the insulation gets into your eaves. If the insulation gets into your eaves, it will constrict airflow and cause problems with ice damming. Install eave shoots, which are styrofoam panels that keep the insulation out of the eaves.
Make certain your crawl space has cross ventilation. During spring, summer and fall, open your crawl space vents to ensure your crawl space has cross ventilation. This ventilation will prevent mold and mildew. Only close your crawl space vents in the winter.
Paint and caulk your original wood siding. Maintain the exterior paint on your wood siding and wood shingles. Apply caulk only to the joints where cascading water can penetrate. Do not caulk the bottom edges of wood siding or wood shingles, which will seal your house too tightly.
Caulk only the exterior edges of your electrical boxes. Apply caulk only to the edges of electrical boxes. Do not caulk the wires or back of a metal box, which could cause heat to build up and start a fire. Do not caulk recessed light boxes.
Keep and weatherize your original windows. Keep your original windows and weatherize them to improve their energy efficiency. Your original windows can be made as (or more) energy efficient than replacement windows in a cost effective manner. Do not install expensive replacement windows.
Keep the weep holes on your storm windows open. Check the weep holes on the bottom edge of your aluminum storm windows regularly to be sure they are open. The weep holes allow condensation to escape. Do not caulk the weep holes on your storm windows.
Weatherization Practices to Avoid
When you are weatherizing your historic house, avoid the following practices:
Do not seal your house up completely. If you seal your historic house too tightly, you will prevent the proper exchange of inside and outside air.
Do not install replacement siding. Replacement siding and its insulating

backer board

create a

vapor barrier

that will trap moisture in your wall cavity.
Do not install wall insulation. Do not insulate exterior walls that have original plaster on the interior side. The insulation could cause the plaster to bow out and trap excessive moisture in the wall cavity.
Do not insulate your sash weight pockets. Do not insulate the

sash weight pocket

of an original window. Sash weights are a proven way to raise and lower a sash effectively. Spring balances break down easily and do not last, and their installation will require that the width of your window be reduced. You can avoid air infiltration in your window by caulking the exterior casing and trim.