General Information
Identifying Problems with Your Historic Poured Concrete Foundation
Enlarge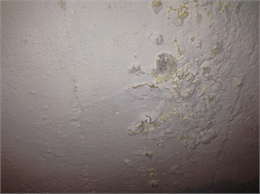 Madison, Wisconsin. Painting the inside of a poured concrete foundation wall can be problematic. Notice here the paint is acting as a vapor barrier and trapping moisture - the bubbling paint is indicative of this problem. Source: WHS - State Historic Preservation Office.
If your historic house or building was built after 1900, it could have a poured concrete foundation. To determine what type of foundation you have, look in your basement or crawl space. If your foundation walls show signs of horizontal lines with wood grain embossed into the face of the wall between the lines, you probably have a poured concrete foundation. You might be able to solve some of the typical problems you will face with your poured concrete foundation on your own, while other problems will require the expertise of a professional mason.
Origins of Poured Concrete Foundations
After the turn of the 20th century, Portland cement based concrete began to be used as cast-in-place, poured concrete foundations. The earliest versions were pictured in Gustav Stickley's "More Craftsman Homes" catalog starting in 1912. These early versions were constructed by digging the foundation trench, pouring a concrete footing and embedding steel reinforcement rods (rebar) into the footing. A two-sided, wooden form was constructed on top of the footing to contain the concrete in an orderly way. Stickley even added a third wooden form in the middle to serve as "insulation." The wood used to create the forms ranged from 1 x 6-inch to 1 x 12-inch boards stacked on top of each other.
Unlike a stone, brick or concrete block wall, a poured concrete foundation is poured as one continuous wall. The term used to describe this technique is "monolithic," which essentially means "one piece." This technique has some advantages, but it does present one significant disadvantage. If a poured concrete wall starts to bow in one small area, the areas adjacent to the problem area could fail as well.
Typical Poured Concrete Foundation Problems
You may want to hire a preservation masonry professional to identify the cause of any problems you are having with your poured concrete foundation. The most common problems you are likely to encounter with your brick foundation are discussed below. Click the link on each subject to learn how to solve the problem.
Common Problem
Learn More

The waterproof coating (parging) on the exterior of your poured concrete foundation wall is deteriorating, or water is entering your basement because no exterior waterproofing was ever installed below ground. You should hire a professional mason to dig around the exterior of your foundation and coat the exterior surface with a waterproofing material. The mason should also install tiling around the foundation to channel water away from your foundation.

Repairing Mortar on Your Historic Masonry Building

Your interior foundation walls are painted and trapping water because the paint is flaking off. Remove all the loose paint and allow the rest to flake

Remove all the loose paint and allow the rest to flake off over time. Any coating on the inside of a poured concrete wall will prevent the normal migration of moisture. The trapped moisture freezes inside the wall, causing mortar deterioration and spalling.

Your foundation wall has sunk (settled) or heaved upwards.
One or more sections of your foundation wall are bowing inward or collapsing from exterior forces such as water and tree roots.
Your foundation shows efflorescence, a white powdery substance leaching in between the cracks.
Your poured concrete walls are dirty or have moss or mold growing on them.

Identifying Problems with Your Historic Brick Building

The interior or exterior face surface of your poured concrete wall is flaking off.

This most often happens when excessive moisture gets into the wall and freezes. This frozen moisture will cause the weakest spots in the concrete to flake or pop off. The best solution to this problem is to prevent moisture from getting trapped in the wall by sealing your foundation wall, providing good drainage to prevent further deterioration and patching large areas of

spalling

.

Your poured concrete foundation wall has cracks.

You should hire a professional mason to clean out small cracks and install a crack injection material in them.

The surface of your poured concrete wall is coarse and shedding sand particles excessively.

You should seal or paint your foundation walls to prevent further deterioration and shedding.