General Information
Selecting Paint Colors for Your Historic Building
Enlarge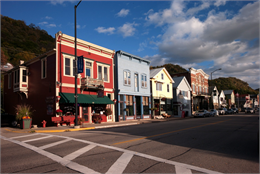 Alma, Wisconsin. Building owners within the Alma Historic District have used color to highlight their commercial buildings' character-defining features. Source: Photographer Mark Fay.
The paint on your historic house or building can always be changed without doing irreparable harm to the structure, so you can have fun choosing your paint colors. You can start by identifying the era and style of your structure. For example, mid-19th century buildings and houses historically featured simple color schemes, but later Victorian-era styles featured color schemes that might include several colors.
Once you know the era and style of your house or building, you can use several different approaches to decide what exterior colors to use.
Analyze Your Original Paint Scheme
One of the best ways to decide on exterior paint colors is to have the original paint on your house or building analyzed. Several firms across the country specialize in the analysis of historic paints. These specialists can tell you exactly how to get good samples from your building and how to document the samples and ship them to their laboratory for analysis. You can use the results to choose your colors or even have the specialist match your original colors for the paint manufacturer you choose. The cost to analyze a paint sample runs from $80 to $200.
You can also perform your own basic paint analysis. This method will never be as accurate as a laboratory analysis, but it can get you close. Follow these two steps to analyze your paint colors:
1. Use a razor blade to shave down through the layers of paint on your building until you reach the first layer.
2. Use a small piece of cotton to rub the layer with a light coat of boiled linseed oil. Most paint and hardware stores sell boiled linseed oil. The boiled linseed oil will remove dirt and bring out the original color. Allow the cotton swab to dry out thoroughly before you dispose of it, because wet boiled linseed oil can spontaneously combust (burst into flames).
If you find that you don't like your original paint colors, you can choose different colors that were common for the era or style of your house or building.
Plan Your Color Scheme
Enlarge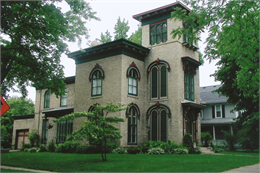 Walworth County. Even though this historic house is brick, the owners selected period appropriate colors to highlight the exterior trim. Source: WHS - State Historic Preservation Office.
You can base your paint color scheme on these three areas of your house or building:
Body of the building. The body color will cover wall surfaces, including a storefront

pier

for commercial properties and wood siding for residential houses.
Major trim. Major trim includes the

cornice

, eave, window trim, decorative window hood molding, porch columns, storefront cornices, storefront columns and

bulkheads

.
Minor trim. Minor trim consists of any

sash

, doors, brackets and storefront frames.
Consult Good Sources
When you are deciding on exterior colors, you might want to consult a really fine book by Roger Moss on paint colors for historic houses called "Paint in America: The Color of Historic Buildings." Roger Moss is a paint historian who is highly respected in this field.
Another possible source for good paint schemes is your local historic preservation commission. Few communities have design guidelines that regulate paint colors, but your commission can give you some good recommendations. A third option is to hire a preservation consultant to help you make this decision.
Some of the major paint companies have partnered with historic preservation organizations to develop a set of colors for eras and house styles.
Follow Best Practices
Follow these best practices for choosing paint for your historic house or building:
Limit your color scheme to no more than three colors unless your paint analysis shows the original paint scheme of your house or building had more than three colors.
Choose a dark or light color for a wood sided and trimmed house, and the reverse for the major trim.
Avoid consulting the Painted Ladies books to look for a paint scheme. These books show paint schemes that have no connection to the historic nature of your particular house or building.
Choose paint that is high quality and matches the existing paint composition on your building.