General Information
Working with Contractors on Your Historic Building Rehabilitation Project
When you work with a contractor on a historic house or building rehabilitation project, your work won't end the moment you find the perfect contractor. You will have to maintain regular communication with your contractor during every step of the project to ensure the work meets your expectations. You should ask a lot of questions to make certain you understand the work plans, and document every project decision in writing.
The key points during a rehabilitation project when you should communicate with your contractor and document your work decisions are explained below.
Get Written Specifications
Enlarge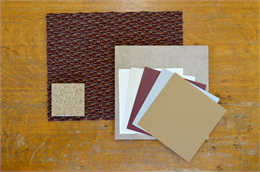 A preservation architect or consultant may complete a finish board similar to this one to help communicate design options with the owner. Source: Photographer Ginny Way.
The key to starting a successful historic rehabilitation project is to have detailed work specifications prepared. Specifications help you understand exactly what work is to be done, what materials will be used and what fixtures will be installed. These specifications will become part of the written work contract you sign with the contractor.
Specifications need to be written by a preservation consultant. For small jobs, you should be able to rely on your preservation contractor to write the specifications. Any rehabilitation project that exceeds $10,000 is generally more complicated from a preservation point of view. For projects of this size or larger, you should have the specifications written by someone other than your contractor, such as a historic preservation construction consultant (HPCC) or a preservation architect. These third-party independent consultants will represent only you, which will put you in control of the bidding process. If you have requested bids from more than one contractor, having the specifications prepared by a third party will also ensure that each contractor is bidding on the exact same work.
When you receive the finished specifications, read them thoroughly and make certain your preservation consultant answers any questions you have about the specifications.
Establish a Payment Schedule
Once you have a contract with all the specifications, the contractor will begin the work and you will have to start paying the contractor. Your contract should include a payment schedule. For small jobs, the contractor should expect to be paid when the job is completed. For larger jobs, the contractor should set up a schedule for periodic payments based on a percentage of the job completed, with a final payment when all the work is done. If your project is a long one covering multiple months, you might be required to make monthly payments. If your project is a medium-length project, your schedule might require bi-weekly payments.
TIP: You should consider following one simple rule when paying a contractor: never pay for work that has not yet been performed or for materials that have not yet been delivered to your job site.
You should not have to give a good contractor any money up front. Like most businesses, a preservation contractor should be working on a 30-day cycle. If a contractor asks you for money up front, especially a high percentage of your project cost, you should consider it a red flag. A contractor who asks for money up front is probably planning to use your money to pay for other projects, and to use money from future projects to pay for your project. This is a dangerous business formula to get caught in. In this case, you might want to consider hiring a different contractor.
Protect Yourself from a Mechanic's Lien
A mechanic's lien is the legal way that Wisconsin contractors and suppliers can put a lien on your property if they are not paid for services or materials. The general contractor, all the subcontractors and the suppliers must follow very specific laws in regard to the timing and reporting of these liens.
You should protect yourself from the possibility of a mechanic's lien using a lien waiver. A lien waiver is a one-page document that must be signed by the general contractor (sometimes referred to as the prime contractor), all subcontractors and all suppliers before you make any payments to the general contractor. Without lien waivers, any unscrupulous contractor that you've already paid can file a mechanic's lien on your house or building. Your contract with the general contractor should list all subcontractors and suppliers. This is the only way you'll know who needs to sign a lien waiver before you pay the general contractor.
Your banker or lawyer can provide you with blank lien waivers. If you're working with a banker and have a construction loan, you will not be able to draw down funds to pay the general contractor unless you submit all the proper lien waivers to the banker. Consult with your banker and attorney to understand the full ramifications of Wisconsin's mechanic's lien regulations.
Address Faulty Work Immediately
Your contract should address all quality expectations before the work ever begins. If you see work during the rehabilitation process that obviously has not been done correctly, do not wait to bring it to the attention of your contractor. If your initial communication with your contractor does not result in an immediate correction to the problem, you should contact an attorney immediately. An official stop-work order may be your best solution until the problems can be worked out.
If the contractor feels the work is done correctly but you are still not satisfied, try to sit down with the contractor and calmly work out a solution that you can both live with. You should always withhold final payment until the job is finished to your satisfaction. The final payment is your leverage to get the contractor to finish the job according to the contract. Again, if communication breaks down and you are not satisfied, contact your attorney for the best advice.
Get a Change Order for Additional Work
After the contractor begins the work, your house or building may present a few unexpected problems or additional work. If the initial planning for your rehabilitation was done thoroughly, there should be few surprises. However, it is sometimes impossible to know what's inside a wall or under an old water-logged plaster ceiling.
If the contractor finds legitimate additional work that was not specified in your original contract, the contractor must let you know right away. The contractor should explain exactly what the additional work entails, how much more it will cost and what possible delays could be involved. If you agree to the additional work, a change order must be signed by you and the contractor. Change orders should clearly state what the additional work is and how much it will add to the original contract amount.
Expect Work Delays
Your contract will include start and completion dates. You would be wise to expect some typical delays that can happen in any construction project. Most contracts allow for typical delays with language such as, "…strikes, riots, labor disputes, war, Acts of God (including weather delays), and unavailability of materials."
Good communication is the hallmark of a quality contractor. While delays happen, it is important that your contractor communicates with you about the delays. For example, the contractor may have promised to be at your job site on Tuesday after completing another job on Monday. If it rained on Monday and the contractor had to finish the other job on Tuesday, did the contractor call you on Monday to let you know? If not, then the contractor is not communicating well, and you'll be stuck waiting for the workers to show up on Tuesday.
Create a Punch List
When your contractor is close to finishing your project, you should review the project with the contractor thoroughly. While you review the project, create a written punch list of any small items that are not finished or need additional attention. All good contractors will expect a punch list. By creating it together, you and the contractor will be communicating in a positive way. Contractors want to receive their final payout as quickly as possible, so they are usually very motivated to complete the punch list.
The information presented here is not intended to provide comprehensive technical advice or instructions on solving historic preservation issues. Any information contained or referenced is meant to provide a basic understanding of historic preservation practices. Read full disclaimer.