General Information
Selecting an Appropriate Storm Door for Your Historic Building
Enlarge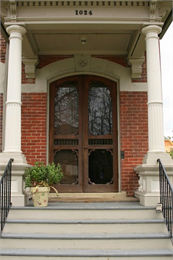 James Vincent House, 1884
La Crosse, Wisconsin. Screen doors were originally wood and could be quite intricate as seen at the James Vincent House in La Crosse. View the property record: AHI 28725
You can improve the energy efficiency of your historic house or building and protect your primary historic door by adding a storm door. Most Wisconsin historic houses and buildings originally had wood storm doors. Wood storm doors were advertised in late-1800s millwork catalogs as a way to save on coal costs.
Wood storm doors are the most historically accurate for your Wisconsin house or building, but some aluminum storm doors still meet the Secretary of the Interior Standards for Rehabilitation. When selecting a wood storm door, you will have plenty of style choices. Many manufacturers make stock and custom wooden storm doors. However, be careful not to buy a wooden storm door that is not the right design for the style or time period of your house or building.
Wood Storm Doors
A high-quality wooden storm door should be made with clear pine, cedar or cypress. These woods hold paint well and are dimensionally stable. Be sure the wood is treated with a preservative and oil primed. You can then paint the door the color you prefer. Some manufacturers will prime and pre-paint their storm doors. Check with the manufacturer for instructions on how to properly measure your door opening for a storm door. If you measure incorrectly and get a storm door that is the wrong size, you will still have to pay for the door if it was custom made.
All joints in the door frame should be full-through mortise and tenon joints. A mortise and tenon joint is designed to allow for contraction and expansion. Mortise and tenon joints should be held together with either stainless steel pins or wood pegs, but never glued. If a mortise and tenon joint is glued, the wood will split and the joint will come apart.
The best hinges for a wooden storm door are solid brass, because brass does not rust. You can purchase high-quality hinges with a strong spring mechanism built into the hinge that closes the door. These hinges are less obtrusive than the standard barrel-type door closers.
Wood Convertible Storm and Screen Doors
You can buy a traditional wood storm door that has separate wood-framed screen and glass inserts. These storm doors are more historically accurate than aluminum storm doors. These wood-framed screen and glass panels are held in place with small screw cams. When you turn the screw, the flange of the screw cam will slide into a slot on the side of the insert frame.
The screens for this type of storm door are available in bronze, charcoal aluminum, or raw aluminum. Bronze and charcoal aluminum are the least visible from the street. Bronze was the earliest type of screen used.
Aluminum Storm Doors
Aluminum storm doors offer these benefits over wood storm doors:
Aluminum storm doors will not need a new coat of paint for 20 years.
Aluminum storm doors do not need

glazing compound

, which can deteriorate and must be reapplied periodically.
Aluminum combination storm and screen doors have two panes of glass and one screen. The glass and screen panels lift and lower in one of three tracks.
If you choose to buy an aluminum storm door, be sure to get one with an extruded aluminum frame. These aluminum storm doors have an air gap in the frame that helps to stop the conduction of hot and cold air. Be sure the frames are butt jointed on the corners and not mitered. The glass should be tempered or laminated safety glass. Screens for high-quality aluminum storm doors should be either charcoal fiberglass or charcoal aluminum. High-quality aluminum storm doors are considered "commercial grade." Make certain your storm door is measured to fit into the old wood storm door bed so it does not lay over the casing trim.
You might want to get an aluminum storm door with low-e (low-emissivity) glass to help stop the sun from seeping through your storm door. Use low-e glass with a visual light transmittance of 72 or higher. Glass with this rating will block harmful light but does not appear tinted.
Aluminum storm doors are available in several factory colors, or you can paint your door a traditional sash color yourself. Avoid the dull mill-finished, natural aluminum finish because it is not historically accurate.