Historical Essay
The Farm Photographs of Andrew J. Mueller - Image Gallery Essay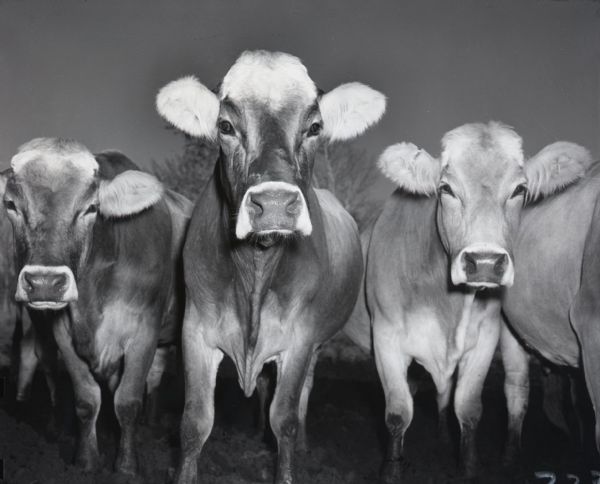 Three Cows
Wisconsin. Photo taken by Andrew John Mueller. Three cows standing side by side. View the original source document: WHI 83458
The photographs of Andrew John Mueller (1900-1984) combine a professional's eye for careful composition with an amateur's passion for rural life. The dozens of images that he preserved from the 1950s and 1960s are among the most compelling photographs of 20th-century Wisconsin farm life in the Society's collections.
From Farm Boy to Photographer
Mueller was born February 2, 1900, in Germantown, Wisconsin, the youngest of five children of Barbara (Schoen) and John Mueller. He enjoyed farm work but also had conspicuous creative and artistic talent. He bought his first small box camera at 18 and by age 21 had saved $1,000 to attend the Layton School of Art. While attending Layton, he worked as an artist in Milwaukee, hand painting glass lampshades and working in the cabinet shop of Fred Garvens.
Enlarge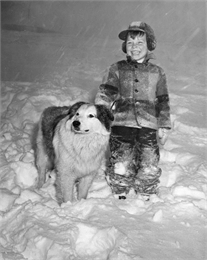 Blizzards Can Be Fun, 1955
Appleton, Wisconsin. The photographer's son stands ankle deep in snow with a dog, and smiles as the snow continues to fall. View the original source document: WHI 11447
Animal Portraits
Mueller's first professional job as an artist was with the magazine, Hoard's Dairyman in Fort Atkinson, the largest-circulation trade journal for Wisconsin farmers. At Hoard's he combined his love of farming with art and photography. He made pen-and-ink illustrations and photographed dairy cows for the magazine. One of the covers showed a photograph he took of a group of heifers on the Johann Müller–Stephan homestead farm. He developed an uncanny knack for communicating animals' personalities with his camera.
Love of Country Life
Mueller's newspaper art and photography covered a broad range of activities from advertising to photographs of fires and accidents, school events and Fourth of July parades. The photography he enjoyed most, however, was that of country life and Wisconsin landscapes. He often shot these for special feature editions and the farm section of the newspaper. He created his own unique style with a sensitive eye toward the quiet and simple beauty of country life and nature.
Always a Photographer
In 1938 Mueller took a job with Badger Printing in Appleton, Wisconsin. After a short time there, a commercial art position opened up with the Appleton Post Crescent, and he joined the newspaper's staff. Within a few years the newspaper's two photographers left for service in World War II, and Andrew became the paper's photographer as well as being in charge of its art and photography department. He remained with the Appleton Post Crescent until his retirement in 1966.
Each day after his newspaper job ended, Mueller took photographs or made drawings on a freelance basis. He did this not only to augment his modest salary at the newspaper but also because of his love and passion for documenting rural life. His freelance work often carried him long hours into the evening. The stamina he developed from strenuous farm work in his youth revealed itself in his extraordinary productivity as a photographer and artist.
Mueller died September 7, 1984, in Appleton at the age of 84.
View the Gallery