Historical Essay
Bees and Beekeepers Since 1872 - Image Gallery Essay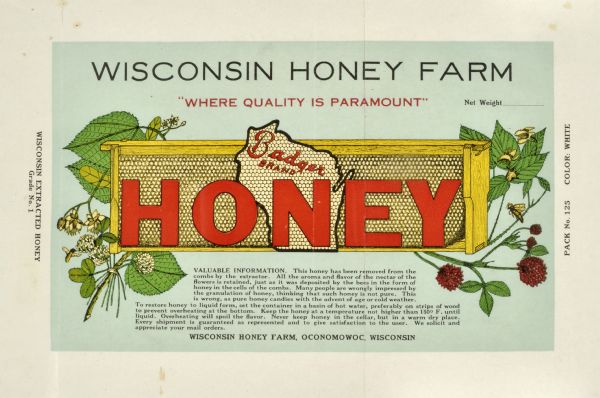 Wisconsin Honey Farm Label, 1921
Oconomowoc, Wisconsin. View the original source document: WHI 90655
More than 200 images in this gallery show the rich history of beekeeping in Wisconsin and other Midwestern states, including developments in beehives, equipment, techniques and advertising. The beekeepers shown were both hobbyists and commercial honey producers. The images show beekeepers and their families, apiaries, beekeeping equipment, meetings of the Wisconsin Honey Producer Association, agricultural exhibitions and Wisconsin "Honey Queens." Printed ephemera includes illustrations and artwork, letterhead, pamphlets and advertisements. Most materials range in date from the late 1800s to the 1980s.
The documents come from several different collections at the Wisconsin Historical Society. The majority are from the Wisconsin Honey Producer Association records and date from 1875 to 1979. Others were found in the records of the Wisconsin Plant Industry Division, the Wisconsin Department of Agriculture and Markets Photographs and the papers of Charles Dadant, a Frenchman who immigrated to Illinois in 1863 and established the bee supply firm Charles Dadant & Son in 1874.
Professionalization of Bee Culture
Enlarge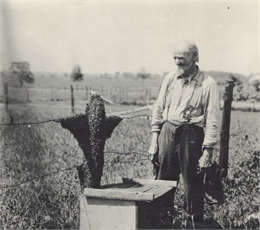 Swarm of Bees on Fence Post with Frank Buhl, 1921
New Holstein, Wisconsin. View the original source document: WHI 106281
Many 19th-century farmers kept bees despite the fact that Wisconsin's cold climate was a challenge to beekeepers. Advances in technology like box hives, movable "Langshroth" frames, honey extractors and other equipment increased production. By 1860 the Italian honey bee, considered superior to other varieties, had been introduced in Wisconsin. Another important step was agricultural diversification, which created more varieties of pollen and nectar, and further increased production. By 1900 more than 2.6 million pounds of honey were being produced in Wisconsin annually.
The Wisconsin Honey Producers Association (WHPA) was organized in 1864. Farmers had begun organizing into beekeeping associations to provide technical assistance, share scientific information, and define standards for honey quality. Today there are beekeeping organizations throughout Wisconsin, usually organized by county, in addition to the statewide Wisconsin Honey Producers Association. The WHPA's purpose is "to form a strong bond and fellowship among commercial and hobby honey producers."
The WHPA has advanced the interests of beekeepers through improving marketing of honey and bee products, running advertising campaigns, supporting scientific developments beneficial to honey producers, and disseminating scientific information among members. After World War II the association sponsored an annual "Honey Queen," similar to the state's Cranberry Queen and Alice in Dairyland marketing campaigns. All these activities are documented in the association's large collection of photographs shown here.
View the Gallery