Historical Essay
Paul Vanderbilt's Wisconsin Thematic Panels - Image Gallery Essay
Photographs and Poetic Texts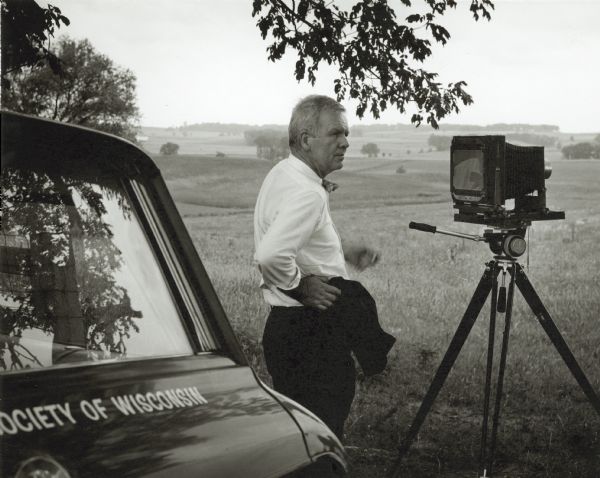 Paul Vanderbilt and his Camera, 1963 ca.
Wisconsin. A candid portrait of Paul Vanderbilt with his large format field camera. View the original source document: WHI 87567
Paul Vanderbilt (1905-1992) was one of the country's most respected scholars in the field of photography and archives. The 96 thematic panels represent the culmination of a half-century of thinking about how pictures work.
Biography
Enlarge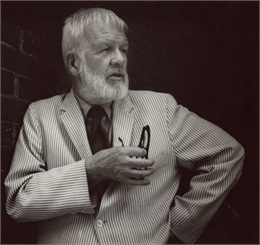 Portrait of Paul Vanderbilt, 1976
Photo by Barbara Crane. View the original source document: WHI 112052
The son of two Massachusetts teachers, Paul Vanderbilt was educated in Europe and Massachusetts public schools before entering Amherst College in 1922. He finished at Harvard with a degree in art history in 1927. From 1929 to 1941, he was the librarian for the Philadelphia Museum of Art and also headed a union catalog project among 150 Philadelphia libraries from 1935-1938.
Vanderbilt was hired to organize the immense image collections produced by the Resettlement Administration during World War II and the Farm Security Administration during the Great Depression, as well as those created later by the War Information Office. When those records moved to the Library of Congress in 1946, he accompanied them as the first chief of the Library's Prints and Photographs Division, a position he held until 1954. During those years, he published a number of influential articles on the organization of visual materials.
In 1954, on Dorothea Lange's recommendation, Vanderbilt moved to the Wisconsin Historical Society to become its first curator of visual materials. His first task was to consolidate and organize existing visual material from the Library and Museum divisions into a single Iconography section. Vanderbilt used the term "iconography" to denote the compiling of images from many different sources on a specific subject so that it could be studied in the widest variety of ways.
He combined his interests in photography, art history, bibliographic control, archival theory and poetry to enable new and innovative ways to understand visual materials. One of his fundamental beliefs was that the life of a picture begins when it is completed, and that what happens to it after that is both more important and more interesting than the circumstances of its creation. He retired in 1972, but continued to take photographs and work with historical images until his death in 1992.
Vanderbilt's "Thematic Panels"
Enlarge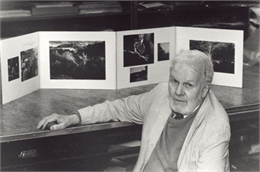 Paul Vanderbilt and Thematic Panel, 1984
Paul Vanderbilt poses in front of one of his Thematic Panels. He created 96 "thematic panels" that combine historical photographs, his own photographs and lines of his own poetry. View the original source document: WHI 112035
This Wisconsin Thematic Panels gallery is a collection of nearly 100 panels containing almost 800 images gathered from collections at the Wisconsin Historical Society. Included on each panel is at least one of Vanderbilt's own landscape photographs and a short poem by him that attempts to guide the viewer to a personal understanding of the panel as a whole. Vanderbilt began selecting and grouping images in the mid-1960s and continued it for the rest of his life. In later years, he simplified this approach into pairings of images, work that culminated in his posthumous book, "Between the Landscape and its Other" (The Johns Hopkins University Press, 1993).
Traditionally, historical images had been used primarily for documentary purposes and were valued for their factual information (people, places, dates and events). The Wisconsin Thematic Panels, in contrast, were experimental. Vanderbilt intentionally omitted factual information in order to allow the viewer space to react and respond in other ways. His goal was to give viewers the freedom to interpret for themselves the meanings in each assemblage of photographs and text.
In a separate file, Vanderbilt did create an elaborate index to the individual images to enable traditional access. He also provided access through much more subjective characteristics such as emotional responses, popular wisdom, cultural issues, philosophical viewpoint and mythological references conveyed by each image.
Supplemental Audio and Text Resources
Audio recordings of Vanderbilt's conversations with staff at the Wisconsin Historical Society, writers, professors and students are available here. In the audio clips, Vanderbilt discusses the themes of 12 of the panels and shares his thoughts on the overall project. Note: The audio is best appreciated while viewing the panels being discussed. Click on the link below any panel's first image to open any recording.
Additionally, Vanderbilt's article "The Wisconsin Project: Reflections on Photography and History" describes the process behind the collection, Vanderbilt's initial conception and its evolution, and his goal to present historical images abstractly. Although Vanderbilt does not explicitly reveal the intended themes of each panel, he does provide guidelines that can be used to help interpret their meanings.
The Society's collection of Vanderbilt materials is available to the public during regular Archives hours. See information on Visiting the Library and Archives.
View the Gallery
View Paul Vanderbilt's Wisconsin Thematic Panels
View additional photographs by Paul Vanderbilt

---
Learn More
Paul Vanderbilt's Landscapes - Image Gallery Essay
View the landscapes of rural Wisconsin through the eyes of Paul Vanderbilt.