Historical Essay
Oneida Tribe of Indians of Wisconsin
A Brief Introduction
Enlarge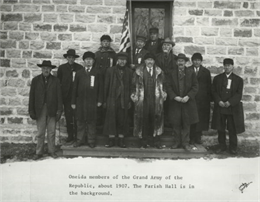 Oneida G.A.R., 1907
Oneida members of the Grand Army of the Republic. The Parish Hall is in the background. View the original source document: WHI 35050
One of Five Nations of the Haudenosaunee, also called the Iroquois Confederacy, the Oneida played a part in the powerful league of nations that was unified long before European contact, according to oral history. The other nations were the Seneca, Cayuga, Onondaga and Mohawks - later adding the Tuscarora in the 1720s to become the Six Nations Confederacy. The Oneida, a matrilineal society, lived in longhouses which ranged from forty to two hundred feet and housed extended families whose clan symbol (either wolf, bear or turtle) appeared above the door. They lived in large communities in modern-day New York and Pennsylvania, subsisting by hunting, gathering and sustainable agricultural practices.
Feeling pressure from white settlers, the Oneida, or "People of the Standing Stone," emigrated to Wisconsin from their ancestral home in New York between 1824 and 1838 in a few groups. Led by Eleazar Williams, the Oneida settled on Menominee land along the Fox River near Green Bay. In 1831 the Menominee negotiated a treaty with the United States that reduced Oneida land to 500,000 acres. The Oneida numbered around 650 people by 1838, and signed a treaty in the same year to establish reservation boundaries.
The Oneida have a long history of volunteering for military service dating back to the Civil War, and Oneida men were designated "code-talkers" in World War I because of their complex language. The General Allotment Act in 1891 left only about five percent of original reservation lands in Oneida hands by the 1930s. Just over a thousand acres were reinstated after allotment ended, as well as an end to boarding schools and other forced assimilation. Before 1934, many Oneida children were sent to government schools far away from their families and forbidden to speak Oneida and prevented from continuing their culture, often moving out of the community afterwards. Onedia activism and leadership in the 1960s and 1970s, and growing economic stability in the 1980s led to a strong infrastructure supporting commercial interests, cultural heritage organizations, health, education and many other areas. The Oneida Tribal School, built in the shape of a turtle, is a kindergarten through eighth grade school that provides a culture-based curriculum for students.
Visit the links below for information about Oneida Tribe of Indians of Wisconsin including their history, culture and present day community.
Other outdated names used in historical documents: New York Indians.
Learn More
Visit the Oneida Nation's web site
View pictures relating to Oneida Indians at Wisconsin Historical Images
Source: Loew, Patty. Indian Nations of Wisconsin (Madison: Wisconsin Historical Society Press, 2001).