Historical Essay
Lake Superior Chippewa Bands (Ojibwe)
A Brief Introduction to Ojibwe Bands of Lake Superior Chippewa
Enlarge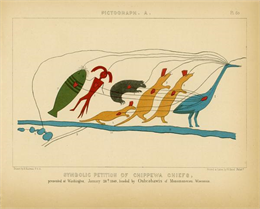 Symbolic Petition of the Chippewa Chiefs, 1849
Contemporary elders say that the lines from the hearts and eyes of the Catfish, Man-fish, Bear, and the three Martens to the heart and eye of the Crane signify that all the headmen shared the same views. The last line, going out from the Crane's eye, indicated that the entire group had authorized Chief Buffalo (Crane Clan) to speak to President Fillmore on their behalf. View the original source document: WHI 1871
The Anishinabe, a long standing alliance that contains the Ojibwe, Potawatomi, and Ottawa, started traveling from the east as early as 1500. Carrying on past eastern states, the Anishinabe explored the southern shores of Lake Superior, finding Manoomin (wild rice) or "the Food that Grows on Water." Settling in this area and learning to subsist on seasonal resources, Ojibwe bands fished, hunted, gathered food (including wild rice) and tended gardens. The large island the Ojibwe settled on was renamed "Madeline" by 1792. Contact with french traders brought new tools, materials and weapons, which aided in conflict with the Dakota and Mesquakie. The friendly relationship with French traders sometimes included intermarriage, and the Ojibwe joined their allies to fight against the British in the 1600s. Also in the 1600s, missionaries began visiting La Pointe, leading to religious divisions among the Ojibwe. These pressures, added to an expanding population and limited resources, caused bands of Ojibwe to leave the area for other parts of the great lakes region.
The first treaty signed at Prairie Du Chien in 1825 showed that Ojibwe governance was decentralized and based on the consent of the Ojibwe people - over 40 Ojibwe signatures are on the document. After the Indian Removal Act in 1830, the Ojibwe were forced to concede large amounts of land in the Treaties of 1837 and 1842, but included language that clearly reserved the right to hunt and fish on the land. In 1850, a removal order was issued for the Ojibwe bands, but a delegation was able to convince President Fillmore to rescind the removal order and begin the setup of permanent reservations. Treaty negotiations of 1854 established four reservations for the Ojibwe bands (Bad River, Lac Courte Oreilles, Lac Du Flambeau and Red Cliff), and again insisted on rights to hunt, fish, and gather on ceded lands.
Enlarge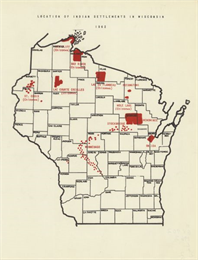 Location of Indian Settlements in Wisconsin, 1962 ca.
A map showing the location of Indian settlements in Wisconsin, indicating the settlements of the Chippewa, or Ojibwe, at St. Croix, Lac Courte Oreilles, Red Cliff, Bad River, Lac du Flambeau, and Mole Lake, and settlements of the Potawatomi, Menominee, Oneida, Stockbridge, and Winnebago, or Ho-Chunk are shown. The map also shows the counties in the state. View the original source document: WHI 91434
The years following the creation of the Ojibwe reservations included many damaging policies of assimilation that affected the Ojibwe. The General Allotment Act in 1887 reduced the total Ojibwe land base by more than forty percent. The federal government divided land into 80 acre parcels for each tribal member, when land used to be owned communally, and sold the rest. Forced boarding school education, starting as early as 1856, required children to be taken away from their families and communities and placed in government schools. School teachers and administrators strictly forbade the use of Ojibwe language, religion and culture. In these boarding schools, conditions were poor, corporal punishment was widespread, illness was spread and corruption was common among superintendents. There were industrial schools in Lac Du Flambeau, Hayward, or Tomah and parochial schools like St. Mary's in Bad River, but some children were even sent to boarding schools in other states. Children were stripped of their Ojibwe identities and given education in menial labor to enter domestic service, or become farm hands or laborers. Students were often forced to work in these types of jobs for exploitative wages over the summer instead of returning home. The boarding school era did untold damage to Native American children and communities in Wisconsin and throughout the nation. The boarding school era and allotment officially ended with the passing of the Indian Reorganization Act in 1934, encouraged by Bureau of Indian Affairs commissioner John Collier. Ojibwe bands were able to reorganize their tribal government structures and apply for community development funds. Following the IRA, the "lost bands" of Ojibwe that did not receive land in the 1854 La Pointe Treaty, the St. Croix and Mole Lake Sokaogan bands, were able to establish reservations and tribal governments.
In both World War I and World War II, large numbers of Ojibwe men enlisted for military service. The Indian Citizenship Act of 1924, following World War I, was passed partially in recognition of the thousands of Indians who served in the armed forces across the nation. In addition to many other examples of honorable service, men from Wisconsin Ojibwe bands were "code talkers" in the Thirty-Second Infantry Division in the South Pacific, using the Ojibwe language to communicate. The proud history of military service and continued dedication is valued in Ojibwe communities, with many ways to honor and care for veterans. Yet, the Lake Superior Chippewa lost many good men in the wars, veterans experienced difficulty returning home and many women moved away from their communities to work in cities. Following World War II, new policies of "relocation" and "termination" were enacted, forcing American Indian citizens out of their communities to assimilate into city life. Again, tribes in Wisconsin were deeply affected by these policies, with members often getting little more than a one-way bus ticket to the nearest city (such as Chicago, Milwaukee and Minneapolis) with the unfulfilled promise of work. Although the Wisconsin Ojibwe communities tribal statuses were not terminated, like the Menominee Indian Tribe of Wisconsin was, the period was very challenging to all tribes.
In the 1960s, with civil rights movements building across the country, the "Red Power" movement in larger cities sought solidarity and change. The American Indian Movement (AIM), a Native American advocacy group, was founded in 1968 in Minneapolis by brothers of Ojibwe heritage, Vernon and Clyde Bellcourte. The group became active across the nation and in canada, fighting for sovereignty, cultural renewal, civil rights and human rights. A notable event in Wisconsin was the 1971 AIM-supported occupation of the Northern States Power Company dam near Hayward, Wisconsin, resulting in compensation for flooding of the La Courte Oreilles rice beds decades earlier, and tribal control of the dam. In 1974, controversy over treaty rights such as Ojibwe fishing off of reservation land began to gain momentum. A class action lawsuit was brought against the State of Wisconsin by the La Courte Oreilles band (later joined by the other five Ojibwe bands) over state officials preventing Ojibwe tribal members from exercising their treaty rights, as established in the 1837, 1842 and 1854 treaties. At first, a federal judge ruled against the bands, but in 1983 the decision was reversed by the Seventh Circuit Court of Appeals. When Ojibwe tribal members began spearfishing in off-reservation lakes, they were met with great hostility. Anti-treaty protests and demonstrations were organized by groups like Stop Treaty Abuse (STA) and Protect American Rights and Resources (PARR)
Each Wisconsin Lake Superior Chippewa (Ojibwe) tribe is unique, but all have faced similar challenges including devastating loss of land, culture and language. However, their histories and current goals also show strength, resilience and dedication to cultural revitalization in their communities.
Today, there are six Lake Superior Chippewa Ojibwe communities in Wisconsin: Bad River, Lac Courte Oreilles, Lac Du Flambeau, St. Croix, Sokaogan (Mole Lake) and Red Cliff. Each community strives to preserve and share Ojibwe history, culture and language through their museums, libraries and cultural centers. See individual historical essays for more information about the Lake Superior Chippewa bands in Wisconsin, and links to more information from each community by clicking the links below.
Lake Superior Chippewa Bands in Wisconsin