Historical Essay
Dr. Joseph Smith: Early 20th Century Life in Marathon County - Image Gallery Essay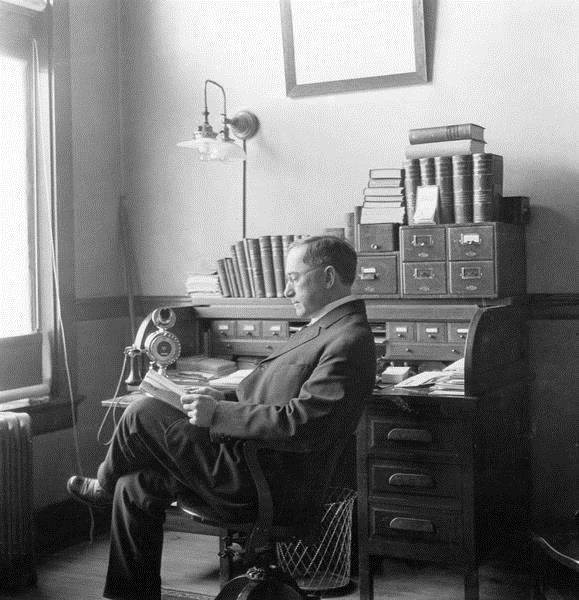 Dr. Joseph Smith, 1913 ca.
Dr. Joseph Smith reads at his desk in his office in the Wisconsin Valley Trust Building. View the original source document: WHI 10098
This gallery is a collection of more than 100 photographs taken by Dr. Joseph Smith, a surgeon at St. Mary's Hospital in Wausau. Photography was a particular hobby of Smith's for many years. Many of the images are from his life at home, family gatherings and other destinations around Marathon County. His unique collection of images captures the life and landscape of Marathon County in the early 20th century.
A View of Marathon County in the Early 20th Century
Enlarge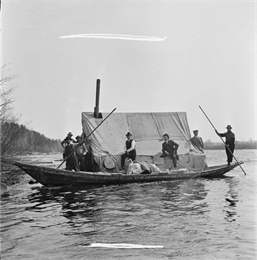 Log Drive on Wisconsin River, 1913 ca.
Eight men are in a boat driving logs down the Wisconsin River. View the original source document: WHI 4371
The majority of Smith's images are of Wausau and the surrounding communities in the early 20th century. Many of these images were taken as he traveled around with family and friends on picnics, where he was able to capture the beauty of the county's landscape. Smith also took photographs of his automobile and home, including the interior during family gatherings and Christmas.
Many of his family members are featured in his images, in particular his wife, Mary E. Smith, and his mother-in-law, Harriet Millard Smith. Several important Wausau community members also appear in his photographs, in particular Marvin B. Rosenberry, Chief Justice of the Wisconsin Supreme Court.
His photos also capture several images from other occupations of the time, including farming and soap making. Of particular interest are images from one of the last log drives down the Wisconsin River. Smith and several other businessmen from the community traveled along with the loggers as they moved the logs down the river. Other images of logging in winter are also included in the collection.
Smith also traveled beyond Wisconsin capturing images as he went. His travels included the east coast, Chicago, Canada and parts of Europe while he was studying abroad in Vienna. This collection contains several images from these travels.
Joseph F. Smith, M.D. - A Brief Biography
Enlarge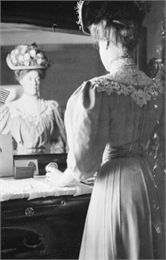 Reflected in the Mirror, after 1905
Indoor portrait of Mary E. Smith looking at her reflection in a vanity mirror while opening a jewelry box. View the original source document: WHI 107360
Joseph Franklin Smith was born in Huntington, Indiana in 1869. He remained in Indiana and attended both Methodist Episcopal College and Valparaiso Normal School where he taught physics for a short time, until he began medical school at Rush Medical College in Chicago. After graduating in 1900, he interned, became a resident, and later an associate surgeon at Presbyterian Hospital in Chicago. Smith also had the privilege of studying abroad in 1906 at the University of Vienna.
In 1908, he moved from Chicago when he accepted a position at St. Mary's Hospital in Wausau, the hometown of his wife, Mary Emily Smith, whom he married in 1903. After relocating to Wausau, he became deeply involved in the community, being a member of the Board of Directors of the Wausau Chamber of Commerce and a part of the Wausau Community Chest.
Smith was also an avid proponent of medical education, being a part of the University of Wisconsin Medical School and the editorial board of the Wisconsin State Medical Journal. The Smith family also often generously donated to St. Mary's Hospital Library and in 1948 signed an endowment to ensure the continuation of the library, which was later renamed after him. Smith remained at St. Mary's Hospital where he was the president of hospital staff until his death in 1952.
View the Gallery