Historical Essay
Foreign Film Posters of the 1950s-1970s - Image Gallery Essay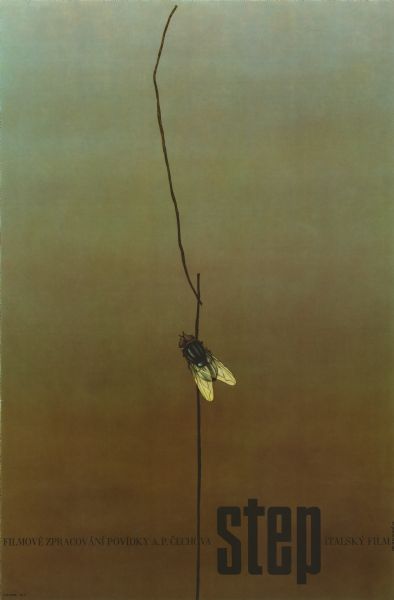 "Step" Film Poster, 1965 ca.
Czechoslovakian film poster for the Italian film "La steppa." Illustrated image of a fly resting on a vertical line against a brown and blue gradient background. View the original source document: WHI 113572
Enlarge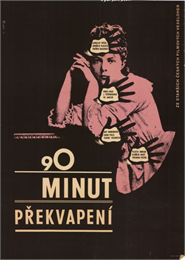 "90 minut překvapení" (90 Minute Surprise) Film Poster, 1963 ca.
Czechoslovakian film poster. A pink image of a woman resting her head on her hands. Four black silhouette hands cover different parts of her body and feature the names of people involved in the film. View the original source document: WHI 113578
Commonly viewed as a form of advertising, film posters are often overlooked for their artistic value. This gallery of just over 100 images of foreign film posters is a reminder of the great potential within this art form. The majority of these posters come from the Amos Vogel papers, a collection owned by the Wisconsin Center for Film and Theater Research (WCFTR). Vogel was a celebrated film festival director and film exhibitor whose connections to the film world allowed him to amass an incredible selection of cinema-related materials. Many of the posters featured come from Czechoslovakia and Germany, but there are also examples from Poland, Argentina and Japan.
The Era Between the End of WWII and the Fall of Communism
The posters selected for this gallery span the years from the 1950s through the mid-1970s. Communist regimes in Eastern European countries often controlled all aspects of film distribution including the content and style of film posters. Instead of using the original artwork and marketing material for important films, the governments commissioned local artists to design posters for both their own nation's films as well as foreign films. The results were almost always abstract and sometimes dark, regardless of the content in the film.
About the Posters and Artists
Many of the Czechoslovakian artists were noted for their specific style and how they interpreted the films in unique ways. The posters of designers like Zdenek Palcr and Bedrich Dlouhy were typically minimalist collages. Others such as Jaroslav Fiser often used colorful, abstract illustrations. Josef Vyletal was one of the few using still photography from the films for which he was designing, often putting cutout figures from the images in bizarre contexts.
Enlarge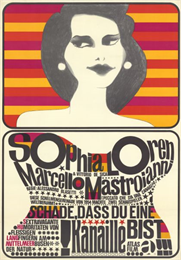 "Schade, dass du cine Kanaille bist" (Too Bad She's Bad) Film Poster, 1964 ca.
German film poster for the re-release of the Italian film, "Peccato che sia una canaglia." The top half of the poster of an illustration of a woman from her shoulders up, with dark hair and white earrings against a colorful background. Below her are the cast names and film title forming an hour-glass shape. View the original source document: WHI 114192
In Germany, Hans Hillmann led the way for Modernist design in film posters. Along with other German artists like Jan Lenica and Dorothea Fischer-Nosbisch, Hillmann used minimalism to concisely represent films. In contrast to these often black and white posters by Hillmann, Heinz Edelmann designed colorful creations that were eye-catching. Best known for his work on "Yellow Submarine," Edelmann's film posters featured his signature psychedelic style.
Meanwhile, the playful posters of Argentina offer a contrast to the unrest and revolution going on at that time in the country. Many of the posters featured here are for Argentine comedies and musicals, but even the posters for dramas are filled with bright colors and put more focus on the actors than other foreign film posters at that time. This places them closer to the traditional American style of film posters from that time period more than anything else featured in this gallery. However, it is unknown who designed some of these individual posters.
Together, these varied examples of foreign film posters not only advertise the films, but they also give us insight into the countries they come from.
View the Gallery
View all WCFTR foreign film posters
Learn More