Historical Essay
History of the U.S. Social Security Act - Image Gallery Essay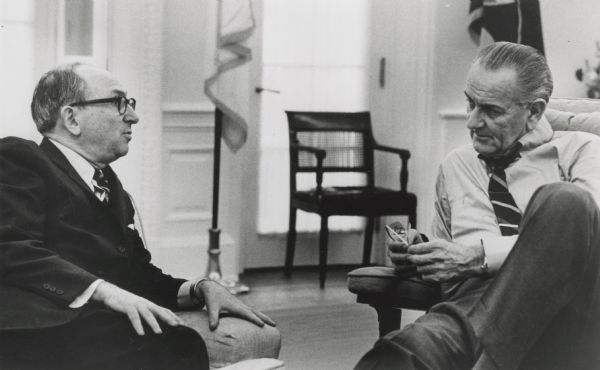 Wilbur Cohen and Lyndon B. Johnson having a relaxed but serious discussion. View the original source document: WHI 106237
In 1934, the United States government, concerned about economic security for all of its citizens, formed a study and reported ,within a six month period, on the need and feasibility of social insurance. View this collection of selected images drawn from the Society's papers of important Wisconsin citizens who were actively involved with social security from 1934 through the 1980s.
A History of Social Security in Photographs
Enlarge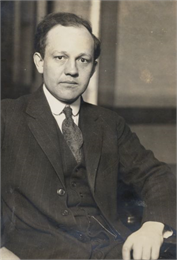 Edwin E. Witte, ca. 1928
Portrait of Edwin Witte, chief of the Wisconsin Legislative Reference Service from 1922-1933. While the executive director of the President's Committee on Economic Security under U.S. President Franklin D. Roosevelt, he helped develop during 1934 the policies and the legislation that became the Social Security Act of 1935. Because of this he is sometimes called "the father of Social Security." View the original source document: WHI 54544
The Wisconsin Historical Society is the repository for major collections of people who worked on social welfare programs for most of their careers. The images in this gallery have been selected from the collections of Edwin Witte, Arthur Altmeyer, Wilbur Cohen and Elizabeth Wickenden, who grew up in New Jersey but was born in Madison, Wisconsin.
Witte, Altmeyer and Cohen were all educated in Wisconsin. All four spent their entire careers working on public welfare study and legislation. While many people across the country worked on the Social Security Act, Witte, Altmeyer, Cohen and Wickenden were involved at the beginning and spent most of their careers in government furthering the impact of 'social insurance' on people's lives.
The images reflect the importance of Social Security legislation, with photographs of presidents from Franklin Delano Roosevelt in 1934 through Lyndon Baines Johnson in the 1960s, Richard Nixon in the 1970s and Jimmy Carter and Ronald Reagan in the 1980s.
Another indicator of the importance of the Social Security Act is the enduring and somehow, endearing, involvement of these people over the 50 years reflected in this collection. There are photographs of Edwin Witte, Arthur Altmeyer, and Wilbur Cohen from their earliest involvement in the 1930s through the 50th anniversary celebration in 1985.
Wisconsin's Sizable Role in the Research, Writing and Administration of the Social Security Act
Enlarge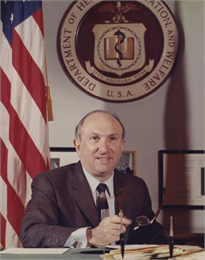 Wilbur J. Cohen, 1968
Portrait of Wilbur J. Cohen sitting at his desk as Secretary of Health, Education and Welfare. Social Security Administration was his responsibility. View the original source document: WHI 105318
In addition to economist Edwin Witte, civil servants Arthur Altmeyer and Wilbur Cohen left their work in Wisconsin to go to Washington, D.C. temporarily. Both of them remained in or near Washington, D.C. for the rest of their careers working on public welfare programs. Social security in particular remained a deep interest.
Elizabeth Wickenden was a social welfare and Social Security policy consultant, analyst, and writer, and professor of public policy and urban studies throughout the 1930s, 40s and 50s. She played a leading role in Wilbur Cohen's Save Our Security coalition of 1979 and in the Study Group on Social Security 1981-1985.
View the Gallery