Historical Essay
Plankinton, John (1820 - 1891)
Brief biography of John Plankinton, a meat packer and businessman.
Enlarge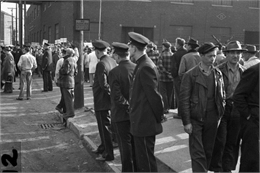 Plankinton Meat Packing Strike, 1948
Milwaukee, Wisconsin. Striking workers and police outside of Plankinton Meat Packing. View the original source document: WHI 84691
b. New Castle County, Delaware, 1820
d. 1891
John Plankinton was a meat packer and a businessman. He moved to Milwaukee in 1844, where for a time he operated a mercantile business. In 1849 he began the packing of beef and hog products, and in 1852 formed a partnership with Frederick Layton (q.v.) under the firm name of Layton and Plankinton Packing Co. In 1861 Layton withdrew and Plankinton continued the business alone until 1863, when he was joined by Philip D. Armour (q.v.) and the firm became Plankinton, Armour and Co.
Together, the partners expanded their packing facilities, established branches in Chicago and Kansas City, and also started a commission and exporting house in New York City. In October, 1884, the partnership was dissolved by mutual agreement; Plankinton relinquished his interests in the branch houses and reorganized the business in Milwaukee as John Plankinton and Co., with Patrick Cudahy (q.v.) as his partner.
Plankinton retired from the business in 1888, and the major portion of the firm came under control of the Cudahy brothers, Patrick and John, who operated it under the name of Cudahy Brothers, and eventually moved the plant to Cudahy, Wisconsin.
A Republican, Plankinton held local political offices in Milwaukee, served in executive capacities with several other businesses and was a longtime member of the Milwaukee Chamber of Commerce. His son, William Plankinton, entered his father's meat-packing business at an early age. When John Plankinton died in 1891, William devoted himself to administering the Plankinton estate. In 1893 he organized the Plankinton Packing Co. to operate the Plankinton plant vacated by the removal of Cudahy Brothers to Cudahy and was president of this firm until his death. William also built up extensive business interests of his own in Milwaukee and outside the state, and was prominently identified with the Layton Art Gallery, the Milwaukee Public Library and Public Museum, and the Milwaukee Chamber of Commerce.
Learn More
See more images, essays, newspapers and records about John Plankinton.
Source: B. Still, Milwaukee (Madison, 1948); E. B. Usher, Wis. (8 vols., Chicago, 1914); Natl. Cyclopaedia Amer. Biog., 1 (1892); Milwaukee Journal, Mar. 30, 1891, Apr. 29, 1905; WPA field notes.