General Information
Obituary Search Request Service
Let us help you find an obituary
Enlarge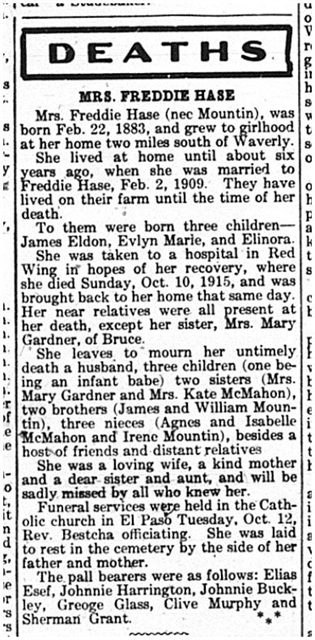 Sample Obituary: Spring Valley Sun Obituary, 1883
This obituary for Mrs. Freddie Hase of Wavery, Wisconsin, is a good example of a photocopy of a local newspaper clipping, something you may receive if we find a full obituary for you. To purchase our obituary research services, click the blue "Start Your Order" button on this page.
A new service from the Wisconsin Historical Society: the Obituary Search Request Service.
Let us help you find an obituary in the thousands of newspapers in our collections.
Staff will search for one individual in up to two different newspapers per request. Please note that there is no guarantee an obituary will be found.
Payment covers the search time, regardless of whether a search is successful. Also, the amount of information in an obituary we find for you may vary greatly. For example, newspapers in larger cities often contain death notices rather than full obituaries.
Research Prices: $15 per request
Wisconsin Historical Society members: 10% discount applied during checkout.
Document Delivery time:
Staff will email results in 2 to 4 weeks.
Information needed to start request:
Full Name
Date of Death (mm/dd/yyyy)
County
City/Township
Notes (please indicate any additional information to help us perform a successful search for you)
Learn More
Visiting the Library and Archives
Have Questions?
Contact our staff by phone at 608-264-6535 or by email below:
historydocs@wisconsinhistory.org