Resource Description
About Our Organic and Sustainable Agriculture Collection
Enlarge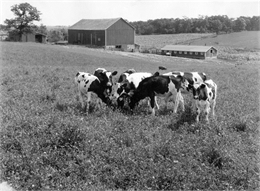 Calves feeding in a pasture, 1929
Monticello, Wisconsin. Calves feeding in a pasture of clover. View the original source document: WHI 11546
The earliest collection in the Organic and Sustainable Agriculture Collection came to the Wisconsin Historical Society in the 1940s, with the papers of Professor Franklin Hiram King, a professor of agricultural physics and author of a book entitled Farmers of Forty Centuries. The book describes centuries-old agricultural and soil fertility practices in China, Korea, and Japan. Decades later, this collection anchors a larger, national collection centered on organic and sustainable farming.
In 2012, with the support of the Ceres Trust, the Wisconsin Historical Society Organic and Sustainable Agriculture Collection was established to document other organic and sustainable farming pioneers, many of whom either began farming or embarked on careers supporting this approach to farming in the 1970s.
Learn more about this collection using the links below:
Collection Overview
Our holdings include papers of individuals and records of organizations such as:
Topics documented in the collection include the development of farmers' organizations and state certification programs, the movement for a national organic standard and public input on this process, and related topics such as the agricultural impact on the environment and conservation resource programs, animal welfare, organic research funding, and international initiatives in sustainable agriculture.
In addition, the Archives holds a collection of Organic and Sustainable Agriculture Publications consisting of periodicals and other publications separated from the manuscript collections. See also the Wisconsin Historical Society Web Archives Organic and Sustainable Agriculture Collection consisting of websites centered on this topic.
How the Organic and Sustainable Agriculture Collection is Organized
Research materials can be found in the Library Catalog. Books, periodicals and other publications are held in the Library (many agricultural titles are held by Steenbock Library on the UW-Madison campus, as well as the Society Library). Manuscript collections, websites, and some periodicals and other publications can also be found here.
Search Online
Through using the Library Catalog, you can find the full listing of the Society's Organic and Sustainable Agricultural Collection.
Search in Person
The Library and Archives are free and open to the public. See more information on Visiting the Library and Archives.
Organic and Sustainable Agriculture History Research Grants Available
Grant applications due February 15, 2017, Click here for more information and application criteria.
Purchasing Copies
Researchers who cannot visit the Library-Archives may order copies by mail, fax or email. We do not accept orders by phone.
See all details on Purchasing Copies
Organic and Sustainable Agriculture Collection Donations
The Archives actively collects the papers of individuals or records of organizations related to the organic and sustainable agriculture movement. Please contact Jonathan Nelson, Collection Development Archivist, jonathanr.nelson@wisconsinhistory.org or 608-264-6447 to discuss a possible donation of your papers.
Download an Organic and Sustainable Agriculture Brochure (PDF, 266 KB) about the Organic and Sustainable Agriculture Collection or see more information on Donating an Item or Collection.
Learn More
Visiting the Library and Archives
Have Questions?
Contact our Library and Archives staff at 608-264-6535 or by email below:
asklibrary@wisconsinhistory.org