Historical Essay
Babcock, Stephen, 1843-1931
Enlarge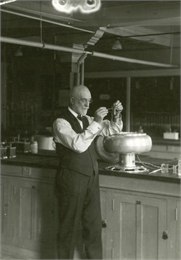 Dr. Babcock with Butterfat Tester, 1926 ca.
Dr. Stephen Babcock with an electric centrifuge butterfat tester. View the original source document: WHI 5585
Known for the test that bears his name, Stephen Babcock was an agricultural chemist whose work stimulated the growth of the dairy industry and paved the way for discoveries in nutrition and vitamins.
Born on October 22, 1843, near Bridgewater, New York, Stephen Moulton Babcock graduated from Tufts University in 1866. From 1872 to 1875 he studied engineering at Rensselaer Polytechnic Institute and then chemistry at Cornell. He received his doctorate in organic chemistry from the University of Gottingen, Germany, in 1879.
Babcock first began experimenting with milk analysis while at the New York Agricultural Experiment Station in Geneva, New York, in 1882. In 1887 he moved to Wisconsin to take a position in agricultural chemistry at the University of Wisconsin, a post he held until 1913. Babcock also became chief chemist at the Wisconsin Agricultural Experiment Station and was its assistant director from 1901 to 1913.
While Babcock's main interest was in the chemical analysis of milk, the importance of the dairy industry in Wisconsin led him to begin testing the butterfat content of milk. The Babcock test, a device he perfected in 1890, measured the fat content of milk which not only determined milk quality but also made it possible to fix standards for milk inspection and to set fair milk prices according to quality. The test helped to discourage farmers from watering or skimming their milk. His invention, which he refused to patent, was widely acclaimed and won grand prizes at the Paris (1900) and St Louis (1904) expositions. Babcock continued to improve the test, refining it as late as 1910. In 1901 Governor La Follette presented Babcock with a bronze medal for his service to the state. Because he never patented the device, the only monetary gain he received for his invention was the Capper Award in 1930, worth $5,000.
In 1897 Babcock helped to develop the "cold storage" method of curing cheese, and he did much of the lab work involved in improving cream separators. His experiments into the nutritional needs of cattle, known as the "hidden hunger" tests, helped to pave the way for pioneering research in nutrition and in the chemistry of vitamins, including the discovery of vitamin A. It was in Babcock's lab at the University of Wisconsin that biochemist Harry Steenbock discovered vitamin D. Babcock also invented a device to test the viscosity of liquids and worked on a milk pasteurization device.
After he retired in 1913, Babcock continued to work in his lab on the transference of energy through ether. In 1931 the New York Legislature honored Babcock with a bill to preserve his birthplace in New York. Babcock died on July 2, 1931.