Feature Story
Oscar C. Boldt Receives 2007 'Samuel C. Johnson Award for Distinction in Corporate Leadership'
Wisconsin History Maker Award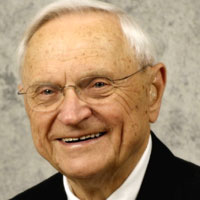 Oscar C. Boldt, 2007
Entrepreneur and business leader Oscar Boldt of The Boldt Company is one of five individuals honored by the Society as a 2007 Wisconsin History Maker.
The Wisconsin Historical Society celebrated the lifetime achievement of Oscar C. Boldt, along with four other individuals with Wisconsin ties, during the History Makers Gala in Milwaukee on Wednesday, May 9, 2007. Boldt received the Samuel C. Johnson Award for Distinction in Corporate Leadership.
A Wisconsin History Maker is a living individual who has recently made significant contributions to history in the state, across the nation or around the world.
---
A dedicated professional, entrepreneur and leader in business ethics, Oscar C. Boldt has spent more than 55 years building the business his grandfather founded in 1889, Oscar J. Boldt Construction, into one of the largest, most highly ranked construction groups in the nation. Born on April 20, 1924, Oscar Boldt earned his bachelor's degree in Civil Engineering from the University of Wisconsin in 1948.
With headquarters in Appleton, the current Boldt Company comprises three separate divisions: Boldt Consulting Services, Oscar J. Boldt Construction, and Boldt Technical Services. In addition to its Appleton office, The Boldt Company operates 13 offices throughout the United States that employ more than 2,000 people. The fourth generation, family-owned company prides itself on its corporate values of honesty, fairness, hard work, performance and a love for the profession. The success of the company is due, in large part, to Boldt's strong leadership, business ethics and professional skills. Boldt's son, Tom Boldt, is currently chief executive of The Boldt Company.
The Boldt Company has been involved in construction projects across the United States, including sports stadiums, airports, MAPS for Kids High Schools, the National Weather Center, and other government and municipal buildings such as power plants and correctional facilities. Their positive impact on Wisconsin's construction industry earned Boldt the very first Associated General Contractors of Wisconsin Heritage Award for achievement in promoting, enhancing and securing the future of construction across the nation. The Boldt Company has also led the industry in environmentally friendly construction methods. When building its 42,000-square-foot Southern Region headquarters in Oklahoma City, Boldt exceeded guidelines from the U.S. Green Building Council. The "green-built" building employed land use, design and construction strategies that were friendly to the environment and made economic sense.
Boldt's leadership has served as a catalyst for excellence among the companies he has served. Boldt has built a career as a distinguished business owner and has received the distinction of serving as a board member of companies in Appleton and the greater Milwaukee area. Boldt has also received various awards and honors from the University of Wisconsin and other distinguished institutions. Boldt was inducted into the Wisconsin Business Hall of Fame in 2003.