Historical Essay
Babcock, Stephen Moulton (1843 - 1931)
Chemist, Inventor, and Professor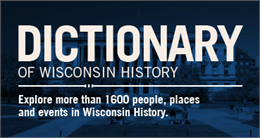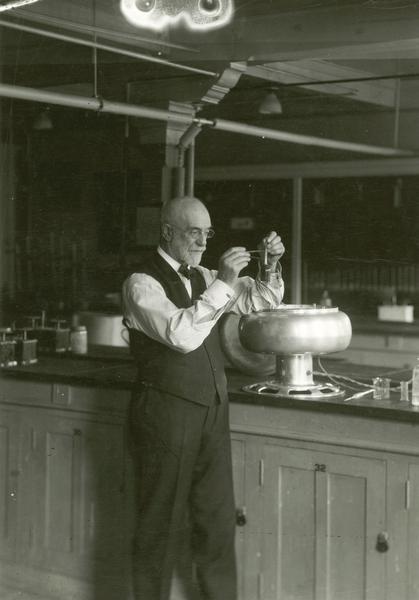 Dr. Stephen Babcock with an electric centrifuge butterfat tester.
View the original photo here:
WHI 5585
Early Life
Stephen Moulton Babcok was born in Bridgewater, NY in 1843. He graduated from Tufts in 1866 and then studied engineering at Rensselaer Polytechnic Institute and chemistry at Cornell from 1872 until 1875. He received his doctorate in organic chemistry from the University of Gottingen in 1879. From 1882 to 1887 he was agricultural chemist with the New York Agricultural Experiment Station at Geneva, NY.
Academic Career
In 1887 he came to the University of Wisconsin as professor of agricultural chemistry and he held that position that he held until 1913. During that period he also served as chief chemist of the Wisconsin Agricultural Experiment Station, and was its assistant director from 1901 to 1913.
Inventions and Achievements
In 1890 he perfected the Babcock test, a device to measure the fat content of milk. The invention, which he refused to patent, was widely acclaimed and won grand prizes at the Paris and St. Louis expositions in 1900 and 1904, respecitively. In 1897 Babcock helped develop the "cold storage" method of curing cheese. He did much of the lab work involved in improving cream separators and began his experiments on nutritional needs of cattle in 1900. These "hidden hunger" tests led to the discovery of vitamin A by others. Babcock also invented a device to test the viscosity of liquids, and worked on an apparatus for the pasteurization of milk.
From the time of his retirement in 1913 until his death, Babcock worked in his university laboratory on the problem of the nature of energy in its transference through ether.
Learn More
See more images, essays, newspapers and records about Stephen Moulton Babcock
Dictionary of Wisconsin History
Explore more than 1,600 people, places and events in Wisconsin history.
[Source: Dictionary of Wisconsin biography]