Historical Essay
Hoard, William Dempster, 1836-1918
Father of the Wisconsin Dairy Industry, Wisconsin Governor
Enlarge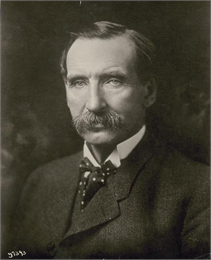 William Dempster Hoard, 1912
A head and shoulders portrait of William Dempster Hoard (1836-1918). View the original source document: WHI 26649
Widely considered the father of the Wisconsin dairy industry, William Dempster Hoard (1836-1918) played a prominent role in the development of the School of Agriculture at the University of Wisconsin and began the first national dairy magazine in the country, Hoard's Dairyman, still published to this day. Hoard's advocacy of high standards for the dairy industry and promotion of scientific dairying and farmer education were vital to the growth and development of the dairy industry in Wisconsin.
William Dempster Hoard was born in Stockbridge, New York, on October 10, 1836, the son of a Methodist minister and farmer. As a young man, Hoard became known for his musical talent and taught singing during the winters when he was not laboring on the farm. Hoard moved to Oak Grove, Wisconsin, in 1857, joining the 4th Wisconsin Infantry during the Civil War.
In 1870 Hoard launched a weekly newspaper, the Jefferson County Union, in Lake Mills, but moved the operation to Fort Atkinson (where it remains to this day) three years later. At the same time, Hoard began a vigorous campaign to improve and grow dairy farming, asserting that Wisconsin was particularly well suited to the industry. He crusaded to get farmers who were losing money due to poor soil and crop yields to switch to dairying. In 1872 Hoard organized a dairying convention in Watertown, Wisconsin, where he founded the State Dairyman's Association, the first of its kind in the nation. Hoard became president of the Northwestern Dairymen's Association in 1876. His crusade for a prosperous dairy industry prompted the founding of Hoard's Dairyman, the national dairy farm magazine, in 1885.
His recognized leadership in agriculture, Wisconsin's dominant industry, contributed to his election as governor in 1888. As governor, Hoard rallied against food adulteration, instituted a cow census, and established the nation's first Dairy and Food Commission to defend consumers against dangerous food contamination. Hoard's support of the Bennett Law though, led to his undoing, and he was voted out in 1892.
Out of office, Hoard continued to promote dairy farmers and the social benefits of dairy science, including the eradication of tuberculosis to free herds from heavy health losses and to protect humans from milk-borne illnesses. In 1915 Hoard was honored as "Wisconsin's most distinguished citizen" at the San Francisco World's Fair. After his death in 1918, a marble and bronze statue was erected on the campus of the University of Wisconsin in recognition of his contributions to Wisconsin's dairy industry.