Historical Essay
Jones, Nellie Kedzie, 1858-1956
Pioneer in Home Economics
Enlarge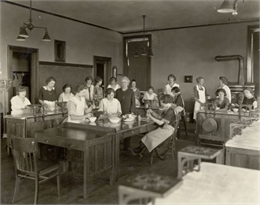 Cooking Class with Mrs. Jones
Cooking short course class at the Rochester under the supervision of Nellie Kedzie Jones. View the original source document: WHI 42434
A nationally recognized pioneer in home economics, Nellie Kedzie Jones was a champion for rural women homemakers, bringing them the latest scientific research through her role as state leader of the Home Economics Extension.
Born on a farm in Madison, Maine, on August 2, 1858, Nellie Kedzie Jones (nee Sawyer) moved with her family to Ottawa, Kansas, in 1870. She spent two years at the newly formed Kansas State Agricultural College and received a Bachelor of Arts in 1876. Jones taught school for five years, first in Milford, Kansas, and later, back in Ottawa. On December 28, 1881, she married Robert F. Kedzie, and they moved to Mississippi, where he was a professor of chemistry at Mississippi College.
Within seven weeks, however, she was widowed and returned to Kansas. At the urging of the president of her alma mater, Jones accepted a position in "household economy" at Kansas State Agricultural College in 1882. The following year she earned her master's degree with a thesis titled "Science in Woman's Life."
Jones was promoted to full professor in 1887, becoming Kansas State's first woman professor to head a department. In her new position, Jones soon found herself administering and teaching all of the courses in the new home economics department. She lobbied the Legislature to secure funding for a new building, and Domestic Science Hall became the first building in the U.S. built for the sole purpose of teaching home economics. Jones was also a favorite speaker at farmers' institutes and was frequently invited to speak at academic institutions on the importance of home economics education. Unfortunately, political shifts in the board of regents led to the firing of the entire school faculty in 1897. Though Jones was given the opportunity to return, she declined.
Instead, Jones became professor of domestic economy at Bradley Polytechnic Institute in Peoria, Illinois, where she taught until 1901. She married the Reverend Howard Murray Jones, a history professor, on July 17, 1901, and joined him at Berea College in Kentucky, where she taught for two years. When Howard resigned to return to the ministry full time in 1903, they moved to Michigan and then to Minneapolis, while Jones continued lecturing around the country. She also served as director of the annual State Fair School of Home Economics in Illinois.
Jones became a mother when an infant girl was left with her husband for adoption. Three years later, her daughter suffered a near fatal bout with polio that prompted Howard to resign from his ministry. The family settled on a farm in Auburndale, Wisconsin, in 1911. By 1912 Jones had begun her career as a columnist.
For four years Jones wrote a series of articles under the title "The Country Gentlewoman" for "The Country Gentleman" magazine. Sharing some of the basic principles she had acquired in her years in home economics, Jones' down-to-earth advice columns appealed to rural women all over the country. In one particularly vivid series, Jones pretended to write letters to an imaginary niece named Janet from her "Aunt Nellie." Janet, with her husband Ben, had supposedly just moved from the city to an old farmhouse and desperately needed basic housekeeping advice.
In 1918 Jones was named Home Economics Extension leader at the University of Wisconsin, a position she held until 1933. She traveled all over Wisconsin, meeting groups of women organized by county agents, speaking to women's clubs and organizing homemakers' clubs. She wrote pamphlets and gave radio talks. Jones also urged every county to hire its own home agent.
Jones received an honorary law degree from Kansas State College in 1925, and after her retirement in 1933 she was made an emeritus professor, the first woman to be given the honor at the University of Wisconsin. Retirement did not slow her down as she continued to give talks on WHA radio. Jones died on April 19, 1956, at the age of 97.