Historical Essay
Kander, Lizzie Black (1858-1940)
Enlarge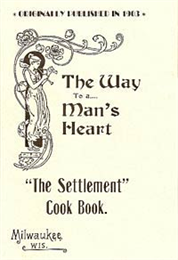 The Way to a Man's Heart: "The Settlement" Cook Book, 1901
Lizzie Black Kander authored one of the most successful charity cookbooks in American history
Like many middle-class women of her time, Lizzie Black Kander was deeply involved in the Progressive reform movements that sought to Americanize immigrants. As head of the Milwaukee Jewish Mission, Kander led a multipurpose reform organization that aided Jewish immigrants, primarily Russian Orthodox Jews, and authored one of the most successful charity cookbooks in American history, "The Way to a Man's Heart: 'The Settlement' Cook Book". Kander strongly believed that women who were educated in the domestic arts could keep their families out of poverty and on the road to success in America.
Elizabeth "Lizzie" Black was born May 28, 1858, in Milwaukee, Wisconsin, to parents of English and Bavarian ancestry. Raised in the Jewish Reform tradition that emphasized the importance of reconciling religion with progressive ideas, Kander's mother instilled a strong sense of the moral and spiritual importance of the domestic home in Kander and her siblings. This strong sense of domestic womanhood did not, however, exclude education, and in 1878 Kander was named valedictorian of Milwaukee East Side High School, where she gave a speech titled "When I Become President." In 1881 she married Simon Kander, who she had met through their mutual involvement in school reform.
Soon after graduation, Kander joined the Ladies Relief Sewing Society, an aid society that became the foundation for her future reform work. She collected used clothes and repaired them for needy families. Rising to president of the Society in 1894, Kander expanded the organization's activities as well as their philosophy, making personal contact and interaction between volunteers and immigrants a priority. In 1895 the name changed to the Keep Clean Mission but was changed again the following year to the Milwaukee Jewish Mission to better represent the broad range of educational and health-related activities they offered.
Under Kander's direction, the mission merged with the Sisterhood of Personal Service to form the first settlement house in Milwaukee. Called simply "The Settlement," Kander introduced educational services to assist children and adults, recent immigrants and long-time residents. There were classes in history, Hebrew and mothering, as well as athletic and cultural clubs, a library, a bank, athletic facilities and public baths.
From the beginning Kander's cooking courses proved among the most popular classes. Teaching modern cooking skills, Kander and the other women instructors introduced nutrition, American methods of housekeeping, and menu planning, demonstrating how American ingredients could be incorporated into traditional Jewish dishes. The Settlement operated the only kosher kitchen outside of New York City. To convince skeptical parents that cooking was an important aspect of assimilation to American culture, Kander asked The Settlement's board for $18 to print a recipe booklet. The board refused, but Kander, undaunted, turned to the local business community to fund her project.
The first edition of "The Settlement Cookbook" appeared in 1901 and was an immediate success. Combining recipes with instructions on cleanliness, food storage and housekeeping, Kander's cookbook was an amalgam of Jewish and American traditions, all presented within a modern domestic science framework. Kander served as editor from 1914 until her death, revising and adding new recipes to each edition. To date, the cookbook has gone through more than 40 editions and has sold more than 2 million copies. Profits from the cookbook helped to pay for a new building in 1911 and another, five times larger, in 1931.
Outside of her work at The Settlement, Kander served on the Board of School Directors of Milwaukee from 1907 until 1919, where she helped to establish a high school for girls with a domestic arts curriculum. Kander died in Milwaukee in 1940.