Historical Essay
Paine, Byron, 1827-1871
Civil Rights Law
Enlarge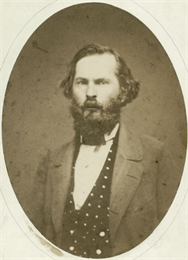 Byron Paine, 1860 ca.
Studio portrait of Byron Paine in suit. View the original source document: WHI 33144
Byron Paine (1827-1871) came to Milwaukee from Ohio in 1847. Admitted to the bar in 1849, he became law partner of exiled German revolutionary Carl Schurz. Both were less interested in making fortunes than in reforming the world, and followed with great interest such radical causes as women's rights, the anti-slavery movement, and the birth of the Republican Party. In 1854, when escaping slave Joshua Glover was arrested and placed in the Milwaukee County jail, abolitionists from all over southeastern Wisconsin surrounded the jail, broke down its doors, and helped Glover escape safely to Canada. Their ringleader, abolitionist editor Sherman Booth, was arrested and prosecuted under the federal Fugitive Slave Act for helping a slave escape. In his first important public case, Paine defended Booth all the way to the Wisconsin Supreme Court. The court declared the federal Fugitive Slave Law unconstitutionaland freed Booth. Paine's argument before them was widely circulated and brought him letters of praise from abolitionist leaders Wendell Phillips and Charles Sumner of Boston.
After the Booth trial, Paine was chosen judge of the Milwaukee County Court in 1856 and served until 1859, when he became an associate justice of the Wisconsin Supreme Court. He served there until 1864 when he entered the Army as a lieutenant colonel in the 43rd Wisconsin infantry, staying until the end of the Civil war in early 1865. Returning to Milwaukee, he entered private practice with another radical Republican, Halbert E. Paine (1826-1905, no relation). Several months later the Paines were offered the case of Ezekiel Gillespie, a leader of Milwaukee's black community who had been prohibited from voting by city officials because of his race. Byron Paine carried this case, too, to the Wisconsin Supreme Court. In early 1866 the justices found that, under the Constitution of 1848 and a referendum held in 1849, Gillespie had been mistreated and that African Americans were indeed entitled to vote in Wisconsin. Soon after, Paine was chosen to serve on the Wisconsin Supreme Court, and he moved to Madison. After winning two of the state's most important civil rights cases, he died at age 44 at his home in Monona.