Feature Story
Nan and George Pollard Receive 2006 'Award for Distinction in Visual Arts Given in Memory of Artist Georgia O'Keeffe'
Wisconsin History Maker Award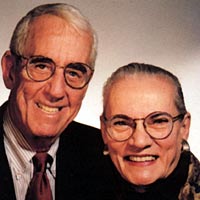 George and Nan Pollard, 2006
Artists George and Nan Pollard are two of five individuals honored by the Society as 2006 Wisconsin History Makers.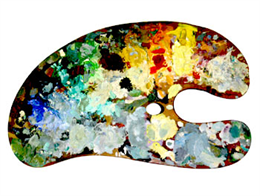 George Pollard's Palette, 2007
Used by the artist George Pollard of Kenosha, Wisconsin, as a 'scrapbook' of his distinguished career. View the original source document: Museum Object 2007.108.1
The Wisconsin Historical Society celebrated the lifetime achievements of Nan and George Pollard, along with three other individuals with Wisconsin ties, during its first annual History Makers Gala in Milwaukee on Tuesday, May 23, 2006. The Pollards received The Award for Distinction in Visual Arts Given in Memory of Artist Georgia O'Keeffe.
A Wisconsin History Maker is a living individual who has recently made significant contributions to history in the state, across the nation or around the world.
---
For more than 50 years George and Nan Pollard sketched and painted together, winning national and international acclaim in quite different areas. While Nan has illustrated more than 2,000 books for children, George has produced more than 5,000 portraits of the rich and famous.
Growing up in Burlington, Iowa, Nan knew she liked to draw from an early age. She won awards for her artwork in both junior high and high school, and went on to study at the Layton School of Art in Milwaukee.
George was raised in the small farming community of Waldo, Wisconsin. Encouraged by his mother, he began drawing at a young age and attended the Layton School of Art after high school. George soon moved on to the Art Institute of Pittsburgh and then to Chicago to study under Frederick Mizen, one of the nation's top illustrators. When World War II began, George left Mizen's academy and enlisted in the U.S. Marine Corps. During his 39 months of service, he continued his art. His work attracted the attention of his superiors, who ordered him to paint the portraits of Eleanor Roosevelt and General Douglas MacArthur. George returned to the Layton School of Art after the war, where he met and married Nan in 1947.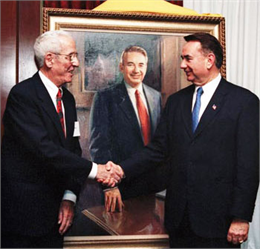 George Pollard and Governor Tommy Thompson, 2002
Madison, Wisconsin. Portrait artist George Pollard (left) and former Governor Tommy G. Thompson at the unveiling of Pollard's portrait of Thompson at the Madison Club. View the original source document: WHI 27079
Nan and George settled in Kenosha, Wisconsin. Nan was soon hired as a staff artist at Lowe Publishing, where she and George collaborated on celebrity doll books. George painted the covers while Nan would do the dolls and dresses. Nan continued to illustrate children's books while George's career as a portrait artist took off. He did portraits of Presidents Eisenhower, Truman, Kennedy and Reagan; Supreme Court Justices William O. Douglas and William Rehnquist; Wisconsin governors Lee Sherman Dreyfus and Tommy Thompson; and sports figures Muhammad Ali, Bart Starr and Vince Lombardi. He even painted Pope John Paul II, which won the Pontiff's Medal, an honor usually reserved for heads of state. George currently has more portraits hanging in Washington D.C. government buildings than any other artist.
Nan built a prestigious career as an illustrator and was continually sought out by publishers for the quality of her work. She drew some of the best-loved children's subjects, including Captain Kangaroo, Mickey Mouse, Lassie and Curious George. In addition to story books, Nan did coloring and activity books as well as paper doll books. She retired in 1999.
Nan and George raised four children together, and their children all have become distinguished artists in their own right. George Pollard died at his home in Kenosha on April 17, 2008. Nan Pollard died at age 87 from amyotrophic lateral sclerosis (Lou Gehrig's disease) on April 16, 2012, at her home in Kenosha, Wisconsin.