Historical Essay
Senator William Proxmire (1915-2005)
b. Lake Forest, Illinois, 1915
d. Sykesville, Maryland, 2005
Enlarge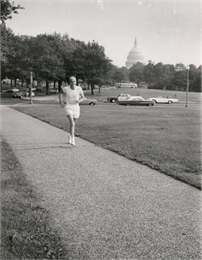 Proxmire Jogging, 1967
Washington, District of Columbia. Proxmire running near the U.S. Capitol. Proxmire was a physical fitness advocate. View the original source document: WHI 30090
William Proxmire was a U.S. Senator (D-WI) and political maverick famous for his penny-pinching attitude toward government spending and his courage in taking unpopular stands.
He helped revive the Wisconsin Democratic Party in the early 1950s and represented the state in Congress for more than 30 years. While in Congress he championed human rights, consumer rights, and honest government while opposing federal waste and corruption.
"He was 100 percent always on the side of the little guy," recalled colleague Rep. David Obey (D-WI), "He hated government waste, and he hated abuse of power." His constituents felt the same way. Between 1958 and 1982, Proxmire consistently won re-election by wide margins despite refusing to spend large sums on his campaigns.
Proxmire was also famous for being an early advocate for physical fitness during his years in Washington, jogging nearly 10 miles every day and adhering to a simple diet.
Early Years
Edward William Proxmire was born in Lake Forest, Illinois, on November 11, 1915. He was the son of Dr. Theodore Proxmire, a prominent physician and conservative Republican, and Adele Flanigan Proxmire.
After attending the private Hill School in Pennsylvania, he went to Yale University where he graduated in 1938. In 1940 he received his master's degree in business administration from Harvard University.
During World War II Proxmire served in the Military Intelligence Service and emerged from the war with the desire to go into politics. After the war he attended Harvard where he completed a degree in public administration in 1948. The faculty was impressed with Proxmire and asked him to teach political science.
Instead, he relocated to Wisconsin in 1949. He devoted the next eight years to launching his political career while he worked as a farm implement dealer, a reporter for The Capital Times and a radio commentator for the Union Labor News.
Wisconsin State Assembly
In 1950, Proxmire won a surprise victory for a seat in the state Assembly. His personal approach to campaigning — he was well known for endlessly shaking hands on the street and at the Wisconsin State Fair — and his refusal to solicit or spend large amounts on the campaign became hallmarks of all his future elections.
Unsuccessful Bids for Governor of Wisconsin
In 1952 Assembly member Proxmire decided not to run for re-election. Instead, he ran for governor on the Democratic ticket. The Democratic Party in Wisconsin had been eclipsed by Progressives and Republicans for decades, with little prospect for success. Proxmire and a handful of supporters, however, saw an opportunity to win visibility for future campaigns. Proxmire lost the election to incumbent Walter Kohler, Jr., as was expected.
Two years later Proxmire defeated James Doyle, Sr. in the Democratic primary before losing again to Kohler in the general election. In 1956 he was defeated for a third time by Vernon Thomson.
Proxmire's Senate Career
Proxmire won his first major political victory in 1957 in a special election to fill the seat of Sen. Joseph McCarthy — the Republican censured for his attacks on people he accused of being communists. Re-elected in 1958, Proxmire went on to overwhelming victories in 1964, 1970, 1976 and 1982.
Proxmire's colorful Senate career spanned 32 years. He chaired the Senate Banking, Housing and Urban Affairs Committee and the Joint Economic Committee, and served as subcommittee chair on the Senate Appropriations Committee.
He was known for his expertise in fiscal matters, authored the 1980 Bank Deregulation Act and became widely known for his opposition to wasteful government spending.
Besides banking, Proxmire also worked tirelessly on the Federal Communications Commission's Fairness Doctrine, ratification of the international Genocide Treaty, supporting Great Lakes shipping and Wisconsin agriculture, and opposing the Supersonic Transport plane (SST), the B-1 bomber and other military spending he considered unnecessary.
Proxmire was famous for frugality. He refused many perks and privileges of his position, such as reimbursement for travel expenses or limousine service. Over the years he returned more than $900,000 from his Senate office allowances to the U.S. Treasury. During his last two campaigns for re-election he refused campaign contributions and spent less than $200 out of his own pocket.
Proxmire spent an enormous amount of energy urging the Senate to ratify the U.N.'s Convention on the Prevention and Punishment of the Crime of Genocide. From 1967 to 1988 Proxmire delivered more than 3,000 speeches. His relentless attention to the issue led the Senate to finally ratify it in 1988.
Proxmire was respected for how seriously he took his work. For more than 20 years he never missed a roll call vote.
Golden Fleece Award
Proxmire was widely known for his successful use of the media. In March 1975 he began sending to the press a monthly Golden Fleece Award exposing what he viewed as wasteful government spending. These mock awards were printed in newspapers all around the country. One of the first organizations castigated was the National Science Foundation for spending $84,000 to support research on why people fall in love. Proxmire handed out 159 awards, the last one in 1987. He also wrote several books exposing government waste and corruption.
Later Life
Proxmire retired from politics in 1988. He served as honorary chair of the Taxpayers for Common Sense advisory board upon its founding in 1995. His final years were tragically clouded by Alzheimer's disease. Proxmire died at Copper Ridge convalescent home in Sykesville, Md., on December 15, 2005.