Feature Story
Elmer Winter Receives 2006 Samuel C. Johnson Award for Distinction in Corporate Leadership
Wisconsin History Maker Award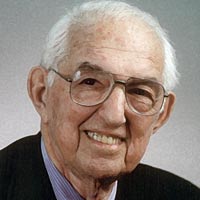 Elmer Winter, 2006
Entrepreneur, artist, philanthropist and co-founder of Manpower Inc., the world's largest temporary job service company, Elmer Winter is one of five individuals honored by the Society as a 2006 Wisconsin History Maker.
The Wisconsin Historical Society celebrated the lifetime achievements of Elmer Winter, along with four other individuals with Wisconsin ties, during its first annual History Makers Gala in Milwaukee on May 23, 2006. Winter was the recipient of The Samuel C. Johnson Award for Distinction in Corporate Leadership.
A Wisconsin History Maker is a living individual who has recently made significant contributions to history in the state, across the nation or around the world.
---
Entrepreneur, artist and philanthropist, Elmer Winter, co-founded Manpower Inc., the world's largest temporary job service company, in Milwaukee. At the same time Winter worked to improve the lives and educational opportunities for children in his community by donating his time and resources. As one of the leading spokesmen for the Jewish community, Winter has also taken an active role in fostering Mideast peace. His artwork has been displayed in both Israel and the United States.
Winter was born in Milwaukee, Wisconsin, on March 6, 1912. Educated in Milwaukee public schools, Winter entered the University of Wisconsin in 1929 and graduated with a degree in economics. He went on to the University of Wisconsin Law School, receiving his degree in 1935. After graduation Winter worked as a tax editor in Chicago before returning to Milwaukee to practice law with his brother-in-law, Aaron Scheinfeld, in 1936.
Winter and Scheinfeld hit upon the idea of a temporary labor force in 1948. Faced with an early deadline, they had badly needed extra assistance on an important brief and came up with the idea of employing temporary workers as a solution. Winter and Scheinfeld named their part-time program Manpower Inc. and opened a tiny storefront office in downtown Milwaukee. The success of the company soon led them to open offices in other cities both around the country and around the world. By the time he retired in 1976, Winter had opened Manpower offices in 20 countries. Today the Milwaukee-based company has more than 4,300 offices in 72 countries and is one of the largest employers in the United States.
During his years at Manpower, Winter became active in a number of programs aimed at helping minority youth find jobs. He began a program called Youthpower, which provided free summer job placement services to teenagers in the Milwaukee area. Winter also served on several local and national committees, including the National Committee for Full Employment, the Metropolitan Milwaukee division of the National Alliance of Businessmen, and the Milwaukee Voluntary Equal Employment Opportunity Council. After retiring from Manpower, Winter founded Operation 4000, a nonprofit organization that provides job training for Milwaukee youths aged 18 to 24.
Beyond Milwaukee, Winter worked on behalf of the Jewish community on a national and international scale. In 1972 Winter became president of the American Jewish Committee, meeting with Pope John Paul II several times to enlist his support in fighting anti-Semitism. At the request of then-Israeli Prime Minister Yitzhak Rabin, Winter established the Committee for Economic Growth of Israel to expand trade relations between the U.S. and Israel in 1976. He also served as a member of the Bi-national Business Council, an organization charged with furthering business relationships between Israeli and American companies. Winter's work was rewarded with recognition from the president of Israel in 1987 and the prime minister in 1998.
Additionally, as an amateur painter and sculptor, Winter's work has been displayed in Israel and the U.S. Winter took up art as a hobby in the 1950s, and it taught him to experiment and to explore all opportunities — lessons that he then transferred to his business management.
Married to Nannette Rosenberg until her death in 1990, Winter had three daughters, eight grandchildren and six great-grandchildren. He married Hope Melamed in 1992. Winter died October 22, 2009, at the age of 97.