Historical Essay
Wright, Frank Lloyd, 1867-1959
Enlarge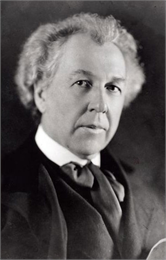 Frank Lloyd Wright, 1930.
Studio portrait of Frank Lloyd Wright. View the original source document: WHI 1921
I would like to have a free architecture. Architecture that belonged where you see it standing — and is a grace to the landscape instead of a disgrace.
Widely regarded as America's most influential architect, Frank Lloyd Wright left behind a rich legacy of homes and buildings, and created a distinctly American style of architecture that continues to influence architects to this day. Wright designed more than 1,100 projects, nearly half of which were built in his lifetime, and lived a life that truly exemplified his beliefs. Through his writings, drawings, decorative designs, exhibitions and buildings, Wright conveyed his revolutionary ideas about organic architecture and his conviction that beautifully designed buildings make a difference in our lives.
1. Early Years
Wright was born June 8, 1867, in Richland Center, Wisconsin. His father, William Carey Wright, a musician and minister, and his mother, Anna Lloyd-Jones, a teacher, had originally named him Frank Lincoln Wright, but the name was later changed when they divorced. As a child, Wright's mother had given him the Froebel gifts, a set of educational toys developed by Friedrich Froebel that included wood blocks and paper for construction that Wright later credited as having a fundamental influence on his sense of structure and rhythmic design.
When he was 12, Wright's family settled in Madison where he attended high school. He spent summers on his Uncle James Lloyd-Jones' farm near Spring Green, on land that would eventually become the site of his home, Taliesin. In 1885 Wright left high school to work for Allan Conover, Dean of the University of Wisconsin's Engineering Department. Wright spent two semesters studying civil engineering before moving to Chicago in 1887.
2. Chicago
In Chicago Wright joined the architectural firm of Joseph Lyman Silsbee, an architect who had designed two buildings for Wright's uncle. His first building was the Lloyd-Jones family chapel, also known as the Unity Chapel near Spring Green. Wright was soon hired as a draftsman in the firm of Adler and Sullivan, where he worked directly under Louis Sullivan. Sullivan and his partner Dankmar Adler were on the leading edge of American architecture and skyscraper design, boldly rejecting historic design precedents in favor of natural forms and buildings that reflected the functional requirements of the project.
Under Sullivan, Wright began to develop his own architectural aesthetic. He adapted Sullivan's maxim, "form follows function," to "form and function are one," the underlying theory of his conception of organic architecture. Sullivan believed that American architecture should not be based on European traditions (as it had been largely practiced in the U.S. to date), but based instead on the needs of Americans, an idea that Wright developed further. Wright eventually became Sullivan's chief draftsman, managing the firm's residential designs. While working for Sullivan, Wright married Catherine Tobin and the two moved to Oak Park, Illinois. In 1893 Wright was forced to end his business relationship with Sullivan after he was caught moonlighting under his own name while still working for Sullivan. Wright opened his own firm in Chicago, which he operated for five years before transferring the practice to his Oak Park home.
Between 1893 and 1901 49 of Wright's buildings were constructed. During this period Wright developed many of the ideas that would serve as an inspiration to the Prairie School of architecture, such as the use of horizontal planes, natural stone, low-pitched rooflines and open floorplans.
3. Taliesin
In 1909, after 18 years in Oak Park, Wright left his home and family, moving to Germany with a woman named Mamah Borthwick Cheney, the wife of a former client. When they returned in 1911, Wright and Borthwick moved to the land once owned by his aunts and uncles in Spring Green, where he built their home, Taliesin. Taliesin is a Welsh word meaning "shining brow," and Wright described the building as wrapping around the brow of the hill. Wright and Borthwick lived in the home until 1914 when a crazed servant set fire to the residential wing, killing Borthwick and six others. After burying Borthwick at Unity Chapel, Wright announced that he would rebuild his home, which he now referred to as Taliesin II.
View rare images Taliesin, 1911-1912

.
4. Taliesin II
Taliesin II remained closed for 10 years, during which time Wright designed the Imperial Hotel in Tokyo and several concrete homes in California. He also married and separated from Miriam Noel before meeting his third wife, Olivanna Milanoff. In 1925 Taliesin II was also consumed by fire, but Wright rebuilt once again. In 1932 Wright founded the Taliesin Fellowship, which allowed apprentices to come live at Taliesin to work with and learn from Wright. In 1937 Wright purchased land in Arizona, where he built Taliesin West as a winter home. Thereafter, the Wrights and the apprentices would leave Wisconsin in the fall and spend the winter in Arizona. Both Taliesin and Taliesin West remained perennially under construction, serving as living experiences and laboratories for Wright and his students.
5. Wright's Work in Wisconsin
Through the Taliesin Fellowship, Wright created one of his most recognizable buildings, Fallingwater in Mill Run, Pennsylvania, as well as the SC Johnson and Son Wax Company Administration Center in Racine. His interest in urban planning and affordable design for the middle class led to the development of his Usonian homes, the first of which was built for Herbert and Katherine Jacobs in Madison in 1936-37. Like many of his contemporary social reformers, Wright thought that safe, quality homes exemplified moral and political values, believing that well-designed dwellings would produce a harmonious and enlightened society. Wright designed a number of other buildings in Wisconsin, including the Unitarian Meeting House in Madison (commissioned in 1946), Wingspread in Racine (built for the Herbert Fisk Johnson family in 1938-39), and Monona Terrace, designed between 1938 and 1958 but not completed until 1997.
See photographs of

Wright buildings in Wisconsin

.
Learn more about the

Duey and Julia Wright House in Wausau

.
See Wright's affordable homes in Milwaukee's

Burnham Street District

.
6. Wright's Death
On April 9, 1959, Wright died at his home in Arizona. Wright was first buried at Unity Chapel, but when his wife died in 1985 his remains were moved to Taliesin West as she requested.
Learn more about Frank Lloyd Wright: