Historical Essay
Brown, Charles E. (Charles Edward), 1872-1946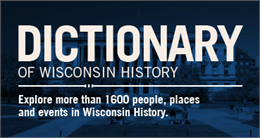 founder of the Wisconsin Archaeological Society and museum director at the State Historical Society. In 1906 he published the first "Record of Antiquities" in the Wisconsin Archaeologist; as more sites were reported, he included them in a series of five "Additions" published in subsequent volumes. His maps and manuscripts are still heavily used by modern archaeologists. View more information elsewhere on the Wisconsin Historical Society site.
The Wisconsin Historical Society has manuscripts related to this topic. See the catalog description of the Charles Edward Brown Papers for details.
View newspaper clippings at Wisconsin Local History and Biography Articles.
Learn More
Dictionary of Wisconsin History
Explore more than 1,600 people, places and events in Wisconsin history.
[Source: Wisconsin Local History and Biography Articles (www.wisconsinhistory.org/wlhba)]