Historical Essay
Civil War: 1st Infantry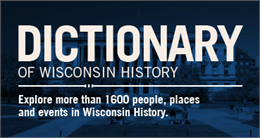 The 1st Wisconsin Infantry was organized into a regiment of three months' service at Camp Scott, in Milwaukee, and mustered into service on April 27, 1861. After those three months were up, it was reorganized for three years' service at Camp Scott, and mustered in again on October 19, 1861. The regiment left Wisconsin for Louisville, Kentucky, October 28-31, 1861, and moved through Tennessee, Alabama, and Georgia during the war. It participated in the battle of Chickamauga and the Siege of Atlanta, and mustered out on October 13, 1864. The regiment lost 300 men during service. Six officers and 151 enlisted men were killed. One officer and 142 enlisted men died from disease.
View original documents
View assignments to brigades, divisions, corps, and armies
Learn More
Dictionary of Wisconsin History
Explore more than 1,600 people, places and events in Wisconsin history.
[Source: Estabrook, Charles E, ed. Records and sketches of military organizations: population, legislation, election and other statistics relating to Wisconsin in the period of the Civil War. (Madison, 1914?)]
Have Questions?
Contact our Library staff by email below: