Historical Essay
Dunn County
Origin of Dunn County, Wisconsin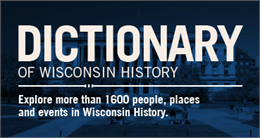 Dunn County was named in honor of Charles Dunn, first chief justice of Wisconsin Territory -- Gannett, Place Names, p. 98.
Charles Dunn (1799-1872) was born in Kentucky, where he studied law, but was admitted to the bar (1820) in Illinois. During his residence in that state he served as captain in the Black Hawk War, wherein he was accidentally shot by a sentinel. In 1829 he assisted in laying out the plat of Chicago. Appointed chief justice of Wisconsin Territory in 1836, he served throughout the Territorial era, also acting as member of the second State constitutional convention. In 1852-53 he was State senator from Lafayette County, and died at his home at Belmont (now Leslie), in that county.
Learn More
See more images, essays, newspapers and records about Dunn County, Wisconsin.

Dictionary of Wisconsin History
Explore more than 1,600 people, places and events in Wisconsin history.
[Source: Kellogg, Louise Phelps. "Derivation of County Names" in Proceedings of the State Historical Society of Wisconsin for 1909, pages 219-231.]