Historical Essay
Eau Claire, Eau Claire County
Origin of the city of Eau Claire, Wisconsin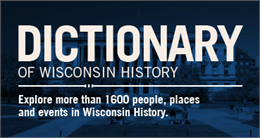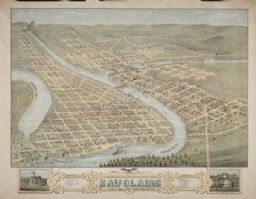 Bird's-eye view of Eau Claire, 1872 (WHi-12330)
A community in Eau Claire Co. at latitude 444841N and longitude 0912954W; the county seat of Eau Claire Co.
Eau Claire (French for "clear water") lies near the confluence of the Eau Claire and Chippewa rivers, about 70 river miles upstream from the Mississippi. Originally teeming with buffalo and game, the site of Eau Claire was in the region hotly contested for generations by the Sioux and the Ojibwe.
English traveler Jonathan Carver wrote the first description of the area in 1767, and by 1784 two mixed-race fur traders named LeDuc and Penasha had settled there. In the first half of the 19th century, French-speaking traders continued to winter in the area but it was not until 1845 that the first permanent white settlers arrived. By the early 1850s, their number had grown to about 100, mostly workers at a saw mill, and when Eau Claire Co. was formed in 1856, their village was the natural choice for county seat. During the 1860s, large numbers of German and Norwegian immigrants migrated to the area, and after the Civil War, as Wisconsin's lumber industry expanded rapidly, Eau Claire was nicknamed "Sawdust City." By 1890 the city was home to more than 75 saw mills and factories which manufactured everything from furniture to electric motors.
The turn of the century brought the collapse of the lumber industry and for most of the 20th century, education and tires fueled the local economy. In 1916, the predecessor of today's University of Wisconsin-Eau Claire was founded, and in 1917 Raymond Gillette started a rubber company to produce automobile tires. Between 1917 and 1992 the rubber plant, which was bought in 1931 by U.S. Rubber and became known as Uniroyal, was the city's largest employer and one of world's leading producers of automobile tires.
Learn More
See more images, essays, newspapers and records about Eau Claire, Wisconsin.

Dictionary of Wisconsin History
Explore more than 1,600 people, places and events in Wisconsin history.
[Source: Barland, Lois. Sawdust City and The River Flows On. Chippewa Valley Museum Web site.]