Historical Essay
Fisk, Theodore 1859 -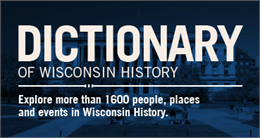 circus manager; Theodore "Dode" Fisk was born in Wonewoc in 1859. He got his start as a horse trainer, but from an early age was also involved in music, organizing orchestras and making a name for himself as a square dance caller. Around 1900 he began exhibiting his trained horses at county fairs and within a few years had expanded to a full-fledged circus with a menagerie, big top, and 163 stops in Iowa, Minnesota, Iowa, the Dakotas, Illinois, Kentucky and Mississippi.  At its peak, his circus had three bands, trapeze artists, and animal acts. Fisk hit bad financial times in 1911 and had to sell out. He remained in Wonewoc for several years, but ended his days in Columbus, Ohio, married to a wealthy widow.
Learn More
Dictionary of Wisconsin History
Explore more than 1,600 people, places and events in Wisconsin history.
[Source: "The Wonewoc Historian," v. 2, no. 10, December 2000.]