Historical Essay
Frackelton, Susan, 1848 - 1932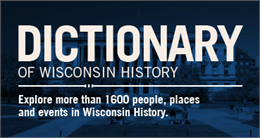 potter, artist and inventor of the gas kiln; Frackleton transformed her love of decorating china into a prolific Milwaukee business, throwing her own pieces and eventually developed her own style of art pottery that featured distinctive blue and gray designs on stoneware. Her book Tried By Fire and a collection of her manuscripts are available at Turning Points in Wisconsin History. You can also view more information about her career and see pictures of her at work elsewhere at wisconsinhistory.org. Twelve pieces by her can also be viewed in the Wisconsin Decorative Arts Database.
Learn More
Dictionary of Wisconsin History
Explore more than 1,600 people, places and events in Wisconsin history.
[Source: Chicago Times Herald, Sunday, Feb. 17, 1901; Wisconsin Historical Images; Wisconsin Historical Museum.]