Historical Essay
Johnsonville
Origin of Johnsonville, Wisconsin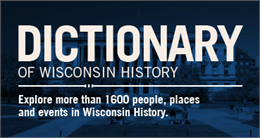 A village in Sheboygan Falls township. From earliest times the place was called Schnapsville (Whiskey-ville), but the name was changed to Johnsonville after Andrew Johnson, president of the United States.
Learn More
See more images, essays, newspapers and records about Johnsonville, Wisconsin.

Dictionary of Wisconsin History
Explore more than 1,600 people, places and events in Wisconsin history.
[Source: Buchan's Historic Sheboygan County, p. 337]