Historical Essay
Juneau County
Origin of Juneau County, Wisconsin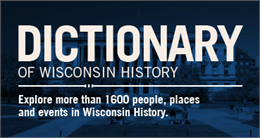 Juneau County named in honor of Solomon Juneau, an early French trader on the site of Milwaukee, and first mayor of that city. Born in 1793 in Canada, as a youth Juneau began trading at Mackinac. He went to Milwaukee in 1818, as an employee of Jacques Vieau. Juneau was the first postmaster of the town (1835), assisted in laying out the first plat of the city (his partner was Morgan L. Martin of Green Bay), and served as mayor after its incorporation (1846). In later life he removed to Dodge County, and died in 1856 at Shawano, while attending an Indian payment.
Learn More
See more images, essays, newspapers and records about Juneau County, Wisconsin.

Dictionary of Wisconsin History
Explore more than 1,600 people, places and events in Wisconsin history.
[Source: Kellogg, Louise Phelps. "Derivation of County Names" in Proceedings of the State Historical Society of Wisconsin for 1909, pages 219-231.]