Historical Essay
Kenosha
Origin of Kenosha, Wisconsin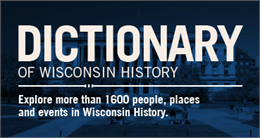 In Chippewa, "Kinoje," a pike or pickerel. "On the 6th of June 1835, the exploring party reached Pike Creek. This name was know to the Indian traders and early adventurers on Lake Michigan. The town was first called Pike, after the post office which was established at the creek, in 1836. In 1837, a meeting of the inhabitants of the place was called, and the name of Southport was adopted, the place being the southermost part of the lake in Wis. In 1850 the name was changed to Kenosha, the Indian name for pike.
In a letter of November 4, 1889, fur trader Peter Vieau (1820-1905) described how Kenosha got its name this way: "The name proper to Ke-no-sha is, Kee­neau-sha-Kau-ning (the meaning "Pickerel's abiding place') which name I always heard the Indians call it, not Ke-no-sha… It vividly comes to my recollection that I heard hundreds of time[s] the Indians call it as I stated, that is about fifty-nine years ago [1830] … I would say that I heard my Father Jacques Vieau Sr. say that in the year 1795, that the Indians had a large village in the neighborhood, little northwest of Kee-neau-sha-Kau-ning and from that time and previous to that date the Indians, according to father's statement told him, as far as they could recollect, say a century or more, that it had been called as aforesaid."
Learn More
See more images, essays, newspapers and records about Kenosha, Wisconsin.

Dictionary of Wisconsin History
Explore more than 1,600 people, places and events in Wisconsin history.
[Source: P. 332-333 of History of Racine and Kenosha counties. A. Skinner in Milwaukee Public Museum, Bull v. 6. p. 399. Vieau, Peter J. Letters, 1889. Parkside SC 20.]