Historical Essay
Kinnickinnic
Origin of Kinnickinnic, Wisconsin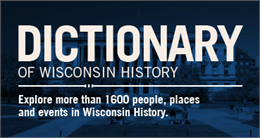 Named after a word originating from Chippewa and Cree dialects of the Algonquian language, literally meaning "that which is mixed." It refers to a smoking mixture of the inner bark of willows or dogwoods and indigenous tobacco. A corruption of "kiniginigade".
Learn More
See more images, essays, newspapers and records about Kinnickinnic, Wisconsin.

Dictionary of Wisconsin History
Explore more than 1,600 people, places and events in Wisconsin history.
[Source: Prusha and Foss. Kinnickinnic Years (New York: Arrow Printing, 1993); Milwaukee Sentinel, Feb 21, 1932.]