Historical Essay
La Crosse
Origin of La Crosse, Wisconsin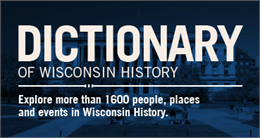 The name of La Crosse is of pure French orgin. When the French explorers and traders ascended the Mississippi River...., they saw the Indians playing a game on the prairie that stretched two miles eastward from the bluffs. This was a ball game played with a long handed racquet that reminded the French of their tennis game which they called "la crosse". (This name had its orgin in the fact that the racquet resembled a bishop's crozier. p. 7 of La Crosse county historical sketches, series 2.)
Description from John W. Hunt's 1853 Wisconsin Gazetteer: "PRAIRIE LA CROSSE, is the name given to the beautiful prairie at the mouth of La Crosse river, it was formerly an Indian trading station, and was frequented by them for the purpose of playing their favorite game of ball, from which fact the river now known as La Crosse river, derived its original name of Ball river."
Learn More
See more images, essays, newspapers and records about La Crosse, Wisconsin.

Dictionary of Wisconsin History
Explore more than 1,600 people, places and events in Wisconsin history.
[Source: Card file at the WHS Library reference desk]