Historical Essay
La Follette, Robert Marion, Jr., 1895 - 1953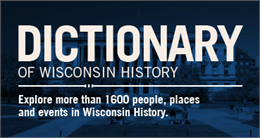 political leader, economic consultant, and U.S. Senator; b. Madison. He accompanied his father on campaign trips and was said to have learned politics at his parents' knees. He attended the Univ. of Wisconsin but was prevented by illness from taking a degree; the same illness kept him from military service in World War I. He became his father's secretary (1919) and was active in subsequent political campaigns. Upon his father's death in 1925 he was elected to the U.S. Senate to fill the unexpired term. At this time he was thirty years old, the third youngest member in Senate history. He was re-elected in 1928, again in 1934, and in 1940. He married Rachel Wilson Young (1930) and they became the parents of two boys, Joseph Oden and Bronson Cutting. Studious, shy, and somewhat introspective, he was without his father's flair for oratory or magnetic presence. Nevertheless he was an effective senator, well-informed, independent, and constructive. He supported Franklin D. Roosevelt for President in 1932, and had a major role in shaping unemployment relief, Labor, and tax reform legislation during the New Deal period. In foreign policy he was an isolationist and opposed repeal of the arms embargo, peacetime conscription, and the lend-lease bill. Once war began he loyally supported the administration war effort. Like his father, he sought to enact a revenue program that would pay a large portion of war costs from war profits. He was one of the authors of legislation to provide for renegotiation of war contracts. He supported the United Nations and was one of the first to point out and criticize the Soviet Union's imperialistic aggressions in Eastern Europe. In 1934, with his brother Philip, he organized the Progressive Party of Wisconsin. For a time this was the dominant party in Wisconsin, re-electing him to the Senate and his brother to the governorship. The Progressives dissolved, however, and he returned to the Republican party prior to the election of 1946. Personally involved in pushing the Congressional Reorganization Act through Congress, he neglected to campaign strenuously for re-election and was defeated by Joseph R. McCarthy by the narrow margin of about 5,000 votes. He remained in Washington where he served as legal adviser, economic consultant, and director of several corporations. He was awarded an honorary LL.D. degree by the Univ. of Wisconsin in 1938. He received the 1946 Collier's Magazine award for outstanding public service. In addition to the persons above, prominent members of the family include Fola La Follette, Middleton, actress, critic, lecturer, and author; and Philip Fox La Follette, lawyer, political leader, and Wisconsin Governor. Robert M. La Follette, La Follette's Autobiography . . . (Madison, 1913); Belle Case La Follette and Fola La Follette, Robert M. La Follette (New York, 1953); Robert S. Maxwell, La Follette and the Rise of the Progressives . . . [Madison, 1956]; Dict. Amer. Biog.; Edward N. Doan, The La Follettes and the Wisconsin Idea (New York, 1947).
The Wisconsin Historical Society has manuscripts related to this topic. See the catalog description of the Robert M. La Follette Papers for details. See also the Funeral of Robert M. La Follette, Jr., Photographs. See also the La Follette Family Photographs. See also the Launching of the Robert M. La Follette Liberty Ship Photographs. See also the Henry Walker Photographs of Robert M. La Follette, Jr. and Family.
View related articles at Wisconsin Magazine of History Archives.
Learn More
Dictionary of Wisconsin History
Explore more than 1,600 people, places and events in Wisconsin history.
[Source: Dictionary of Wisconsin biography]