Historical Essay
La Pointe, Ashland County
Origin of La Pointe, Wisconsin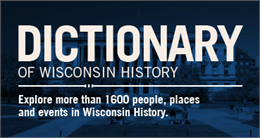 A village on Madeline Island, in Lake Superior near the town of Bayfield, which was the center of fur trade activity in the Chequamegon Region, 1660-1860; at latitude 464645N and longitude 0904711W
Description from John W. Hunt's 1853 Wisconsin Gazetteer: "LA POINTE, P. V. and C. H., is situate on Madeline Island, in Lake, Superior, La Pointe county, at about town 50 N., of range 4 W. It has a bay nearly three miles across, capable of containing at anchor, secure from all winds, a numerous fleet of the largest class vessels, and is the favorite harbor of the lake. La Pointe was originally settled by the North Western Fur Company as the most eligible point for a depot and trading port on the lake. As a site for a town, and as a resort for health and pleasure, La Pointe offers advantages equal to any other place in Wisconsin. It has the best fishing-grounds on the whole lake for trout, siscowet and white fish, or lake shad, more than one thousand barrels of which are packed annually at La Pointe. Tempered, as well in summer as in winter, by the vast expanse of water which surrounds it, and which, except at the immediate surface, is almost always at 40 degrees Farenheit, its climate is milder and more equable than any part of Wisconsin, whether it be on the mainland of Lake Superior, or further south on the Mississippi. Chiefly for this reason, but also on account of the bracing winds that sweep across the lake, Madeline Island is probably not surpassed, in point of health, by any locality throughout the entire western country."
Learn More
See more images, essays, newspapers and records about La Pointe, Wisconsin.

Dictionary of Wisconsin History
Explore more than 1,600 people, places and events in Wisconsin history.
[Source: U.S. Geographic Names Information Server]