Historical Essay
1960s Paper Dress
Wisconsin Historical Museum Object – Feature Story
Enlarge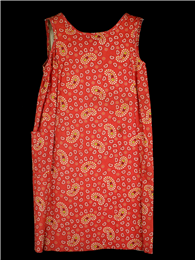 Paper dress by Scott Paper Co., 1966-1967
Source: Wisconsin Historical Museum object #1969.184.13
Enlarge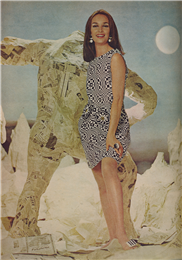 Second paper dress shown in an issue of Life Magazine, 1966
The second paper dress produced by Scott Paper Company as shown in the April 29, 1966 issue of Life Magazine. The model wears papier-mâché jewelry including a belt and toe ring. Source: University of Wisconsin Memorial Library
Enlarge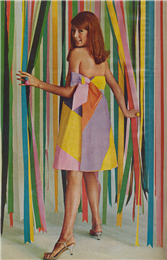 Strapless paper party dress featured in Life Magazine, 1966
This strapless paper party dress created by Elisa Daggs, one of the leading paper clothing designers in the 1960s, sold for $6 and needed a paper petticoat to pouf it out. Source: Life Magazine, November 25, 1966 in collection of the University of Wisconsin Memorial Library
Paper dress made by Scott Paper Co., 1966-1967.
(Museum object #1969.184.13)
Disposable paper clothes seemed the wave of the future in the mid 1960s. At the time, living in space looked like a real possibility, and, as one textile designer stated for "Life Magazine," "Who is going to do laundry in space?" For a brief moment the future of paper garments looked rosy as hundreds of thousands of garments were sold between 1966 and 1968. Scott Paper Company, with factories in Marinette and Oconto Falls, Wisconsin, created the catalyst for the phenomenon in the spring of 1966 when it introduced two new paper dresses as premiums to promote its new line of "Color Explosion" paper products. The company printed its two dresses with gift wrap designs — one a black and white pop art pattern and the other an orange-red, yellow, and black paisley arrangement. A surviving version of the latter dress once owned by a Madison, Wisconsin woman is featured here.
Scott's dresses, sold as "Paper Caper" products, were not purely paper, but an "un-paper" that the Scott company called Dura Weve. This consisted of 93 percent paper-napkin stock reinforced with rayon webbing, a combination that made the material more durable than standard paper and gave it a more fabric-like drape. The dresses came in the two prints, four sizes, but only one style — an A-line shift cut from two pieces with no sleeves and a patch pocket on the hip.
Customers who purchased the dresses paid $1.25 and received coupons for Scott's toilet paper, paper towels, and napkins. When orders for half a million dresses poured in, the promotion overwhelmed the Scott Company. Six months after it began, company executives abruptly ended the advertising campaign stating they "didn't want to turn into dress manufacturers."
When Scott stepped out of the paper garment industry, others quickly filled the void. Breck shampoo offered two mini-skirted "mod-styled" paper dresses as a way to target the youth market, and Air India introduced a paper sari with the enticement, "Be the first princess in the palace to own one."
In June 1966 Mars Manufacturing Company of Asheville, North Carolina, a hosiery and swimsuit business, brought out a line of paper clothing that could be purchased at J.C. Penney's and Sears, Roebuck & Co. In the first three months Mars sold 120,000 dresses that retailed for $1.29 each. By early 1967 the demand so overwhelmed the supply of paper appropriate for clothing that a brief panic among paper garment manufacturers ensued.
While Mars dominated the paper clothing business for the general public, others sold more expensive versions to an upper class crowd. Tzaims Luksus, for example, designed full-length hand-painted paper ball gowns, valued at $1000, for an October 1966 event at the Wadsworth Atheneum Museum in Hartford, Connecticut. The museum kept the dresses, even though one ripped during the ball and had to be repaired with tape.
Early the next year "Look Magazine" published a fashion spread, "Paper Posh, Disposable Elegance" that featured high-end paper dresses in gold and silver metallics and studded with "gems." These upscale dresses did not have the feel of paper napkins like the Scott's dresses; instead they were made of a stiffer, coated paper. Paper manufacturer Kimberly-Stevens made one version of this product that they called Kaycel, a base paper meant to be coated with Mylar (a clear plastic) and fire-retardant chemicals.
Paper clothes with their wild designs and trendy geometrical lines represented an interest in combining fashion, pop art, and popular culture that emerged in the mid 1960s. According to one costume historian, paper dresses also fulfilled a need of the post-Depression, post-World War II generation to rebel against a status quo that valued durability. Ephemeral objects satiated a desire for owning contemporary products, ones that could be easily replaced as the definition of "contemporary" changed.
In the midst of the mad rush for paper clothes, many thought they would replace some traditional clothing. The fashion designer quoted from "Life Magazine" at the beginning of this article thought paper clothes would eventually be sold in tear-off rolls for only pennies a piece. In reality, fashionable paper clothes died out rather suddenly, as "Mod and Pop styles [were] supplanted by the 'back-to-nature' hippie lifestyle" and as concerns about pollution and waste materialized.
More utilitarian paper clothing, which had been around since the mid 1950s, continued its original role as disposable garments for hospital patients and lobster bibs at restaurants. Yet while fashionable paper clothing quickly disappeared, the technology developed for such paper garments did lead to the creation of new paper clothing products such as disposable diapers, space clothing, and even uniforms for nuclear plant employees.
Learn More
Have Questions?
For more information or to purchase an image of one of the objects featured in Curators' Favorites, contact our staff by email below:
museumcollections@wisconsinhistory.org
[SOURCES: Palmer, Alexandra. "Paper Clothes: Not Just a Fad," "Dress and Popular Culture "(Bowling Green, OH: Bowling Green State University Popular Press, 1992); "The Wastebasket Dress has Arrived," "Life Magazine", November 26, 1966; Chamberlin, Anne. "The Paper Caper," "Saturday Evening Post", December 2, 1967; "Paper Posh, Disposable Elegance," "Look Magazine", March 7, 1967.]
LAB
Posted on April 03, 2008