Our Archaeology Programs and Services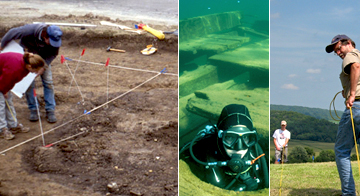 Our Archaeology Programs and Services
The Wisconsin Historical Society has several programs that serve to protect and interpret Wisconsin's archaeological resources.
FEATURED HISTORICAL ESSAY

Learn about the inhabitants of Aztalan, a Middle-Mississippian settlement.
STATE ARCHAEOLOGY AND MARITIME PRESERVATION
Learn how the State Archaeology Program serves the public.
Learn about the Society's Maritime Preservation Program, which preserves Wisconsin's historic shipwrecks.
For owners of archaeological sites listed in the National Register of Historic Places or the State Register of Historic Places.
Learn how archaeological sites are protected in Wisconsin.
EDUCATION RESOURCES
With our archaeology activity boxes, students will learn using the same tools and techniques employed by archaeologists.
Inquire about in-person presentations by archaeologists from the Wisconsin Historical Society.
Borrow a traveling exhibit about community life in a Native American village 500 years ago.
MUSEUM ARCHAEOLOGY PROGRAM
Learn about the history, outreach and services of the Society's Museum Archaeology Program.
Museum Archaeology Program The Society's Museum Archaeology Program (MAP) hires field archaeologists for each field season and may also have internships available.
Have Questions?
Contact Denise Wiggins by phone at 608-261-2464 or by email.