Wisconsin Historical Markers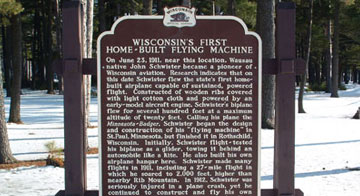 Wisconsin Historical Markers
Wisconsin has more than 565 official Wisconsin state historical markers. Each tells a story about our state's rich heritage. Many are located along roadsides.
READ MORE >

Wisconsin Historical Markers
Marker Instructions
Questions to Get You Started.Use these questions to develop a well-documented, comprehensive text for your marker inscription.
Anyone can apply for a Wisconsin State Historical Marker by submitting a completed application form. Read how to do it step-by-step.
A potential Wisconsin Historical Marker must meet the criteria for the marker topic and where it will be located.
Read about techniques to help you develop a well-written historical marker inscription.
Refine Search
To find more information on Wisconsin Historical Markers
Have Questions?
If you have questions about Wisconsin Historical Markers, please contact Rick Bernstein by phone at 608-264-6583 or by email.
Wisconsin Destinations

Discover roadside history! Browse this volunteer-run website to find driving directions, images and information for historical markers across the country, including Wisconsin.