General Information
About Wisconsin State Historical Markers
Enlarge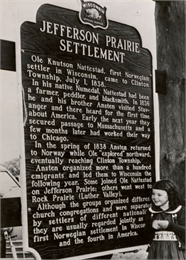 Jefferson Prairie Settlement Marker, 1952
View the original source document: WHI 35202
Enlarge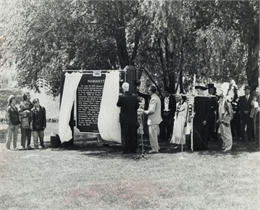 Marquette Historic Marker, 1957
View the original source document: WHI 123191
Enlarge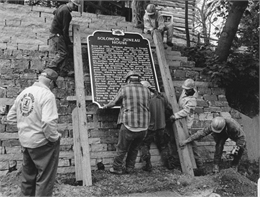 Solomon Juneau House Marker, 1997
View the original source document: WHI 95863
Wisconsin State Historical Markers tell the stories about events, individuals, buildings, or sites of local, state, or national significance that contribute to our state's rich historical heritage. There are more than 590 official state markers in Wisconsin that carry approved historical inscriptions. Historical markers are an excellent educational tool, informing people about significant aspects of Wisconsin's past.
These permanent, outdoor plaques are located near the place where something significant occurred. Many of them are roadside markers.
The Wisconsin Historical Markers Program is administered by Local History-Field Services, Office of Programs and Outreach, Wisconsin Historical Society.
Official State of Wisconsin Markers are Easily Recognizable
Wisconsin's State Historical Markers are cast aluminum, have raised cream-colored letters on a tobacco brown background and feature the badger, the state symbol of Wisconsin, embossed at the top of the marker.
Nominations
Is there a significant piece of history in your community that you would like to commemorate with a historic marker? Individuals, public agencies, or private organizations are encouraged to nominate historic properties, persons, and events for the Wisconsin Historical Markers.
Related Resources
Official List of Wisconsin Historical Markers
How to Apply for a Historical Marker
Researching Your Historical Marker Topic
Criteria for a Historical Marker Topic and Location
Tips for Writing Historical Marker Inscriptions
Learn More
Wisconsin State Historical Markers
Have Questions?
Contact:
Fitzie Heimdahl
Historical Markers Program Coordinator
715-471-0770