Feature Story
Mathilde Anneke
Celebrating Wisconsin Visionaries, Changemakers, and Storytellers
Making

change with the written word

Changemaker | Mathilde Franziska Anneke | 1817 - 1884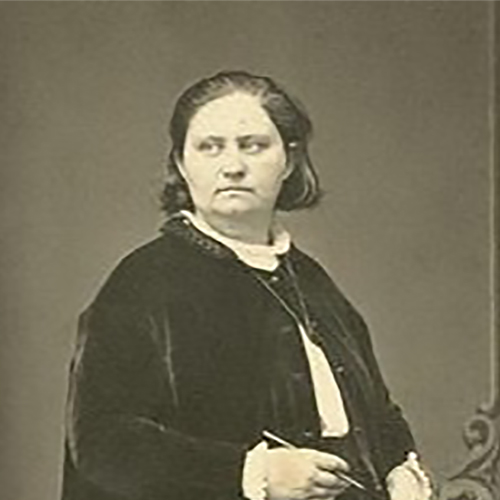 Formal studio portrait of Mathilde Franziska Anneke wearing dark dress and coat. - WHI Image 3701
In 1848, a wave of German populists fled repression in their homeland and settled in the heart of America. Among them were Mathilde and Fritz Anneke, changemakers who contributed to reform movements in their adopted country.
Born into the Prussian nobility in 1817, Mathilde was highly educated and grew up in comfort on her grandfather's large estate. As a young woman, she entered into an unhappy marriage to a rich merchant, experiencing firsthand how laws restricted women's lives. When she divorced her husband, the prolonged battle over their infant daughter helped turn Mathilde into a staunch advocate for women's rights.
As a single mother supporting herself and her daughter, Mathilde took to writing and editing, producing a successful play and several stories. Eventually she met Fritz Anneke, a young German artillery officer with socialist leanings. The couple settled in Cologne, where they founded a daily paper for the working class. When political agitation landed Fritz in prison, Mathilde ran the paper until authorities shut it down. Undaunted, she founded the first German feminist newspaper, Frauen-Zeitung, in September 1848.
After Fritz was released from prison, the Annekes both took up arms during the German Revolution of 1848, one in a series of populist, anti-monarchal revolutions that took place in Europe during that year. The revolution was quickly crushed, and the Annekes were forced to flee to the United States.
The Annekes settled in Milwaukee and Mathilde resumed her political work. She befriended Susan B. Anthony and Elizabeth Cady Stanton and assumed a leadership role in the women's rights movement. Mathilde published the first feminist journal in the United States, the Deutsche Frauen-Zeitung. Although Milwaukee was a more liberal environment than Germany, Mathilde objected to the social and political condition of African Americans and women.
The Annekes staunchly opposed slavery, and when the Civil War broke out, Fritz joined the Union Army. While her husband fought on the front, Mathilde traveled to Switzerland to raise support in Europe for the Union cause. She returned to Milwaukee after the war and opened a school for girls that encouraged the development of self-confidence and critical thinking, in addition to traditional subjects. Mathilde died in 1884, having carried the message of freedom and democracy to thousands of women in Europe and America. She was a changemaker who fought for social justice everywhere she went.
*This story is adapted from the Wisconsin Historical Society Press book Warriors, Saints and Scoundrels available for purchase here.
Learn More: