Feature Story
Tony Wise
Celebrating Wisconsin Visionaries, Changemakers, and Storytellers
'Birkie' Founder's Vision Attracted the World to Northern Wisconsin
Visionary | Tony Wise | 1921 - 1995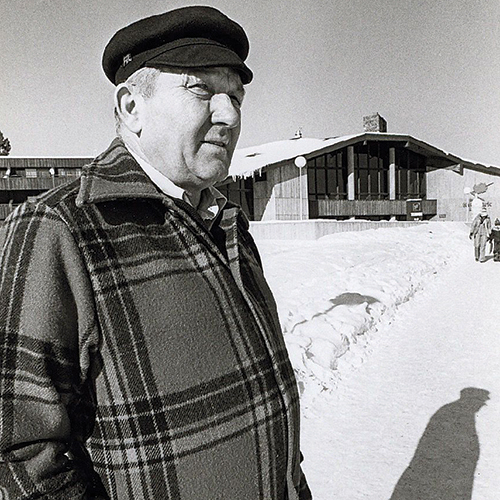 Hayward native Tony Wise (shown in this undated photo in front of the Telemark Lodge, founded the ski resort located in Cable in 1947. He also created the World Lumberjack Championships in Hayward in 1960 and founded the American Birkebeiner cross-country ski race in 1973. - Courtesy of U.S. Ski & Snowboard Hall of Fame
The tourism industry of northwestern Wisconsin would not be what it is today without Hayward native Tony Wise. A true visionary, Wise seized an opportunity to attract people from across the world to his beloved corner of the Badger State all year round.
Wise was born on March 15, 1921, in Hayward. He earned a bachelor's degree from Ohio State University and served in World War II before earning a master's degree from Harvard.
After learning to ski while serving as a lieutenant colonel for the Army National Guard in Germany during the war, Wise paid $750 in 1947 to purchase "the hill" in Cable, Wisconsin, and turned it into the Telemark Lodge ski resort. In 1960, he founded the Lumberjack World Championships in Hayward. Then, in 1973, he created what would become the largest cross-country ski race in North America: the American Birkebeiner. "The Birkie," as it is affectionately known, attracts more than 10,000 competitors to tiny Cable and Hayward each year, whose respective populations in 2018 were 833 and 2,301. In 1979, Wise founded the Worldloppet, an international sports federation of cross-country skiing marathons that sanctions thousands of races involving millions of competitors.
Wise also founded the Sawyer County Historical Society in 1957 and was instrumental in establishing the legendary Birkebeiner Trail System, a recreational system spanning Bayfield and Sawyer counties. He died on April 6, 1995, at age 74, in Hayward. Wise's innovation and entrepreneurialism made northwestern Wisconsin world-famous, making him a Wisconsin visionary worthy of celebration.
Sources: U.S. Ski & Snowboard Hall of Fame | Tony Wise Museum of the American Birkebeiner | Lumberjack World Championships; Tom Kelly
Learn More: