Feature Story
Thomas Blake
Celebrating Wisconsin Visionaries, Changemakers, and Storytellers
Visionary's Design Idea Made Him a Surfing Legend
Visionary | Thomas Blake | 1902 - 1994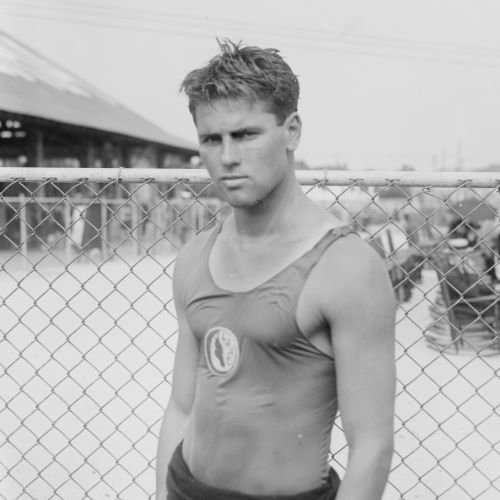 Tom Blake (shown in 1922) left Washburn after dropping out of high school during the 1918 flu pandemic and became a surfing legend in Hawaii and California in the 1920s and '30s. His design of a lighter, hollow board transformed the sport. - Courtesy of Wikipedia
When asked to imagine a visionary responsible for transforming the sport of surfing, most people might envision someone from Hawaii's North Shore, not someone from Wisconsin's Northwoods. However, surfing historians agree that Tom Blake fits the bill.
Raised in the small city of Washburn, Wisconsin, which borders Lake Superior, Blake became a larger-than-life figure in the water sport while living in Hawaii and California in the 1920s and 1930s. He was an innovator of both surfboard design and surfing photography and epitomized the famed, laid-back surfing lifestyle.
When the 1918 Influenza Epidemic ended classes for the year, Blake dropped out of high school and left Washburn to wander the country. A chance meeting with Kahanamoku, a Hawaiian Olympic swimming champion and surfer, convinced Blake to move to Hawaii in 1924. Once there, he became fascinated by the history and techniques of surfing and used his skills to design a lighter-weight, hollow surfboard that was more buoyant and maneuverable than the solid-wood boards then in use. In 1928, Blake debuted his new board in front of 10,000 spectators at the first Pacific Coast Surfing Championship.
Blake is also considered by many to be the father of modern surf photography for inventing a waterproof housing for his camera, allowing him to take never-before-seen, up-close photos of fellow surfers from his paddleboard.
Today, millions of people around the world enjoy board-based water sports and recreation from the mind of Wisconsin's very own "surfer dude," Tom Blake. The chill, "hang loose" lifestyle he popularized also endures, and it is in that spirit that Wisconsinites celebrate and salute this influential and legendary visionary.
*This story was adapted from the Wisconsin Historical Society essay Thomas E. Blake. Additional information was included from legendarysurfers.com, surfline.com, and Adventure Journal.
Learn More: